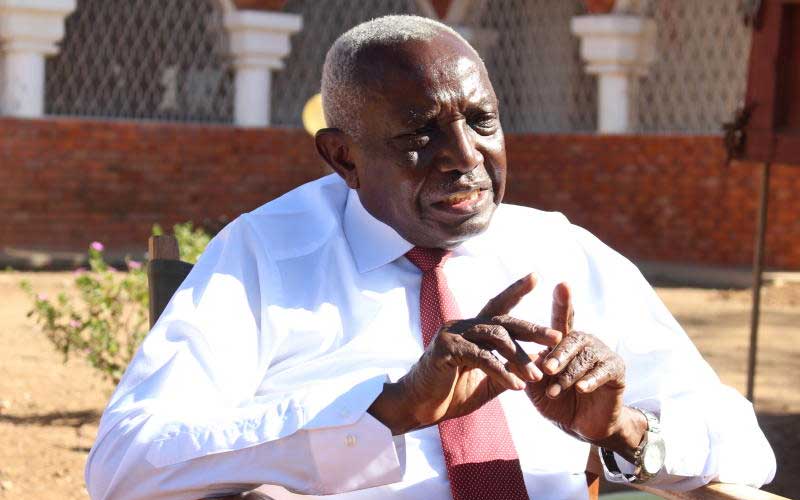 In 2015, businessman James Kisia said he is worth Sh2 billion. He took The Nairobian through his life at his Mwala home and recalled being the first Kamba to acquire a house in Mombasa during the colonial period.  He explained that the African trinity is made up of white, black and red colours hence why he's almost always in black trousers, a red tie, and white shirt. All his white shirts are imported. The man with over 100 black trousers made his foray into business by accident though.
"I got a scholarship to go to America. People from my clan donated money to enable me to travel, but the money was stolen by one of my brothers who went on to waste it all."
READ ALSO:Eight reclusive Kenyan billionaires you might not know about
Kisia travelled to Tanzania to visit Ndeto Yumbya, an uncle, who loaned him Sh1,000 and "I used the money to purchase curios. I sold them and made Sh2,600, which was enough to pay back my uncle. I started the business in August and five months later, I had made Sh6,000 profit."  That was in 1961.
Kisia, who was then a teacher, discarded chalks for curios. He began mingling with the likes of David Ngati who was well-known for making Sh1,000 profit monthly and Nairobi's St Austin's Academy owner Kyale Mwendwa, who was then making Sh625 profit monthly. The father of 10 children ventured into real estate. "I bought a four-bedroom house for Sh30,000 in the Central Business District in Mombasa with a loan from a bank."
He also got into the transport business. Lady luck was however not on his side, forcing him to sell his matatus to an Indian for Sh90,000 but was only given Sh30,000 which he invested in a tyre business in Dar-es-Salaam. He then made a profit of Sh300,000. "I used to sell tyres all the way to Somalia," Kisia said, adding that he went on to own parcels of land and rental houses in Kilifi, Shimba Hills, Kwale, Machakos, Mombasa, and Nairobi.
"I was the first Kamba to purchase a house in Mombasa along Jomo Kenyatta Avenue where I bought three houses. At the moment, I have five houses along Jomo Kenyatta Avenue, one house has 55 shops and 140 flats. I am currently worth over Sh2 billion," disclosed Kisia.
"I have been accused of having majini and because I come from a clan of intellectuals, I said yes, I do have majini. I went ahead to tell those accusing me of having majini that I have brought five lorries full of majini to my rural home. This was just to scare them. Nobody would pick my property without permission."
READ ALSO: From two hens to billionaire: Nelson Muguku's poultry empire
To prevent a fallout over money in the family, Kisia put up a family trust after seeing how many children from wealthy families squandered the wealth for lack of proper guidance and plan.
"None of my children will reap where they did not sow. There will be no wastage of money and other assets," said Kisia who married two wives. One had seven children, the other three.
"All my children went to the US and became doctors. Unfortunately, one of them passed on after graduating," said Kisia who took his firstborn there in 1980.