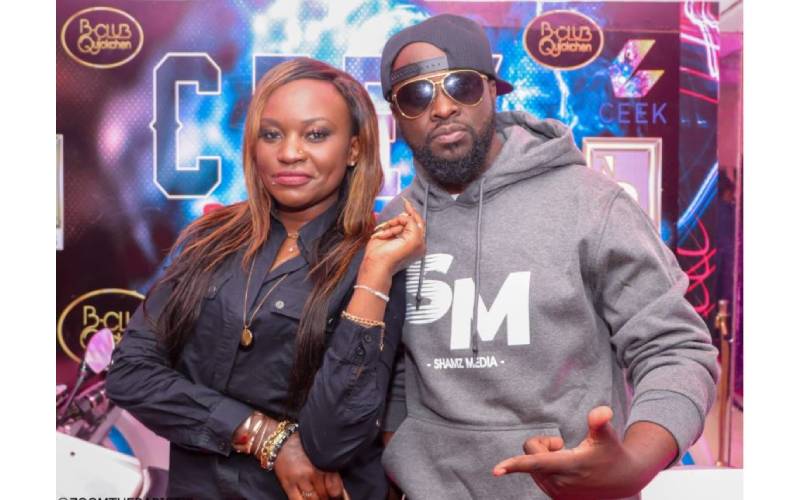 A team of seasoned entertainment personalities, among them singer Jackie Chandiru from Uganda and music producer Frank Shukuru aka Maximizer from Tanzania, are here at Kahawa Wendani to witness a unique talent showcase.
They are part of the panel judging the over 50 contestants, young people who have attended a talent search audition exercise organised by Shamz Media Limited, a recording and talent management stable committed to nurturing young creatives.
From wanna-be musicians, dancers and deejays lined up, hoping to win a slot and get signed to a two-year contract. It is a big deal for the youth, one that would expose them to international promoters, among them creatives organisations in Germany who have partnered in the project.
Charles Oduor, 22, one of the contestants, tells us he has been looking forward to becoming a musician since he cleared High School four years ago. He, however, hasn't been able to raise the exorbitant recording fee charged by producers in popular recording studios since. This, he says, is his golden opportunity to get recognised and win a recording deal, one that would jam start his music dreams.  
"We have been scouting for young talents; musicians, deejays, dancers…name them, after discovering that many youth are seeking opportunities to make a livelihood in a country where jobs are hard to come in the formal sector. Most of these youth come from low income humble backgrounds and our commitment is to discover, nurture, equip and expose them," says Daddy Fortune, one of the directors at the centre.
"We have a professional team of dedicated industry players from across the region that is training the young talents and molding them to become reputable entertainers," adds Fortune.
The centre is one of the many upcoming creatives hubs giving hope to young artists when the Kenya Institute of Curriculum Development, through the new competency-based curriculum, is developing training modalities to unlock the opportunities available in the creative economy space.
Among such hubs is the KTN Home aired Sasini Talanta Mtaani program now on its sixth year, a creatives training program through which hundreds of youth have unlocked their talents.
"Talanta Mtaani Youth Empowerment Program (TMYEP), which is now organised by the Talanta Mtaani Consortium (Civil Society Urban Development Platform, Ciplar International, Uwezo Awareness Organization) aims at expanding the socio – economic opportunities for the youth from the neighborhoods," says Maurice Okoth, the CEO, Talanta Mtaani. 
"It is a holistic youth development program, with integrated programs comprising of the Talanta Mtaani Show, the PIMA capacity Program and the Employability program. Talanta Mtaani TV Show focuses on competitive talent search, exposure and talent development. PIMA capacity building: delivers personal values, skills training and knowledge transfer that lays emphasis on Protection of self, Interconnection with key stakeholders, mentorship and assistance to acquire market confidence and presence towards the desired social economic self-reliance," Okoth adds. 
The training focuses on personal development, employability, leadership development and mentorship, business development and entrepreneurship, intellectual property, and the practice of the creative and performing arts.
The training programme has incorporated former Talanta Mtaani graduates and winners such as the Season 1 champion Tesla Njeri aka Tess, an established singer – to mentor upcoming creatives. Others include Season 3 finalist Wangui Kimani, now an established singer and spoken word star.
In Nakuru County, the recently launched Njoki Karuoya Creative and Media Centre (NKCMC) has become the home of creatives from the region.
The Sh20 million worth centre is already hosting film producers, musicians, comedians, storytellers, and fashion designers being trained and mentored to perfect their skills to make a livelihood and boost the production of locally created content.
 "The NKCMC expresses the story of Kenya's stories through creative expressions, we can tell our authentic ideas and stories as African through creativity and art. People from abroad hear negative stories from and about Africa. However, from now on, positive stories about our cultures will be showcased," the Kenya Film Classification Board (KFCB) Chief Executive Officer Ezekiel Mutua stated during the centre's launch two weeks ago.
Mutua urged artistes to demystify the negative narratives that have been told by the foreign media and sell Africa as a great place through art.
He said that the government is committed to conducting public awareness forums on copyright infringement through such hubs. The country's film, music, and performing arts sector remained untapped despite its huge potential for employment creation.
"We are committed to public-private partnerships in projects such as this Creative and Media Center so that our artists can showcase their talent to both Kenyans and the rest of the world," Mutua said.
According to the UK Department for International Development (DFID) funded Business Environment Reform Facility – Creative Economic Business Environment Reform, Kenya, the industry suffers from lack of funds to enable proper investments in the sector. In addition, access to start-up funds is difficult due to the low-income level and lack of network.
The report cites inadequate institutional support and lack of exhibition spaces, culture, and arts centres, among other infrastructures, and lack of knowledge and understanding of the copyright laws within the industry as part of the challenges facing the creative industry.