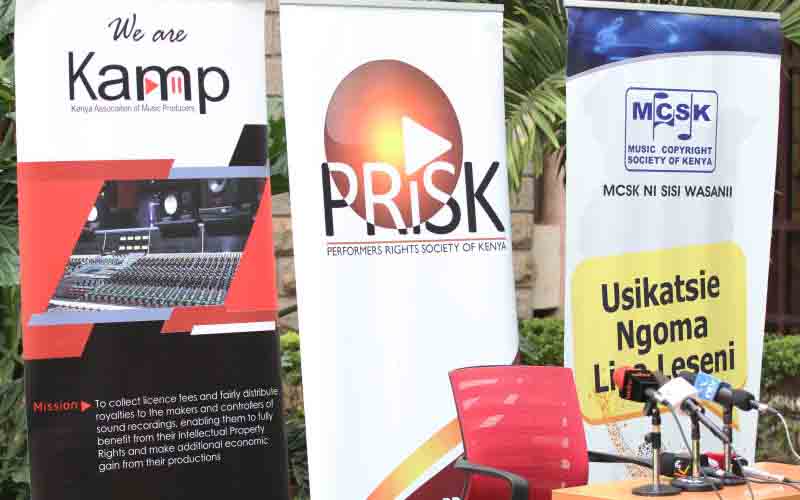 There are some steps that one has to undergo while making music such as songwriting, arranging, tracking, editing, mixing and mastering. Then you have your song. Then what next? You at least need to get some recompense in terms of monetary value and with the pandemic at hand depending on live gigs and club appearances should not be the major source of any artist's income.
Becoming ambassadors is the real deal for musicians lately. Over the weekend, celebrated WCB Wasafi head honcho, Diamond Platnumz announced that he had signed $5 million distribution deal with African music streaming App, Mziiki, for his record label. The new deal comes hot on the heels of an ambassadorial deal that was signed on April 1, which saw Diamond appointed Itel Brand Ambassador for East Africa. He also enjoys deals with beverage manufacturer Pepsi, continental pay TV giants DStv, Uber, Bellaire, and Vodacom, among other deals.
This comes a few weeks after Kaka Empire's Femi One inked her ambassadorial deal with the Monster Energy Company making her the first African female to bag the position. She joined the Monster Energy family to celebrate the release of Monster Energy Ultra in Kenya. "All the time, consistency and dedication I've put into my craft is paying off and it is amazing to be recognized for my efforts. This is not only my achievement, but also a win for all African female artistes as I am the first to be appointed to such a role," she said without divulging much about the pay or the duration of the deal.
For the longest time possible, Kenyan artists have cried foul about the licensed Collective Management Organisation (CMOs) that collect royalties on their behalf. But in return they get peanuts.
"MCSK wanahitaji mateke
Nitakuja kwa ofisi niwabakishe ndethe. Wasanii ndio mmeamua mtese. Kwenda! Pesa zetu mlete (Kwenda!)…" goes Khaligraph Jones in his single 'Kwenda,' where he conveys his displeasure with Music Copyright Society of Kenya (MCSK), a royalty collection body here in Kenya.
Last month, gospel musician Reuben Kigame highlighted his frustrations towards the government and MCSK. "I have been recording music since 1987. Released 29 albums with daily airplay in many stations around Kenya My songs are played on just about every public event including by police and military bands. Yet at the end of the month I can only look forward to about Sh18,000 in royalties," said Kigame. His sentiments came when many creatives in the industry are struggling to make ends meet, especially with the curfew and lockdown imposed by the government due to the Covid-19 pandemic.
One begs to ask what really is wrong with the Kenyan industry. "Music content is certainly not limited to the master or the song, but if you approach the entirety of opportunity as all things a consumer would want as opposed to what has historically been the standard, the doors do open pretty wide. The question is related to the music industry not the recorded music business," advises Courtney Holt, a digital media and music executive. This goes on to show that an artist should put thought into their marketing and distributing channels instead of uploading it on one platform, and chill.
In an interview with Kenyan Wall Street, Dan Aceda brought about a new twist to the story. Like the fact that in the 80s, Kenya produced four gold records or the curious case of Joseph Kamaru, who wrote over 1300 songs. For context, Prince is considered one of the greatest singer-songwriters of all time having a catalogue of between 500 and 1000 songs. He decried the fact that Kamaru was deprived of an opportunity to share his musical talents with the world rendering all his works invincible.
Beyond sales of music and access to music, there is a wealth of content that can be exploited across all platforms and mediums. There are some evolutionary opportunities in mobile apps that are slowly revolutionizing the industry and one should be aware of such to enhance their visibility and audience reach.
In line with the global trend over the past year, streaming platforms such as Apple Music, Spotify and Boomplay in Kenya is a good sign as streaming services accounted for 62.1 per cent of global music revenue with performance rights revenues taking the biggest hit as major concerts and events were cancelled amid the covid-19 pandemic.
Analysis using data from Boomplay, home to 3.4 million artistes from over 60 countries, mainly in Sub Sahara Africa, shows that Nadia Mukami and Otile brown were the top female and male streamed artists through 2020.
Without a doubt, Otile brown fully maximized on the advantages that online presence offer, especially given the pandemic, which had people on lockdown and perpetually on the Internet at the time of his album's release. He ditched the traditional release methods like physical listening parties and performances in favour of online releases for his debut album, Just In Love, which undoubtedly led to its huge success.
According to the 2021's Global Music Report shows that the growth in 2020's music revenues was driven by streaming. Total streaming revenue stood at $13.4 billion of the total 21.6billion, contributing to 62 per cent of the of total global recorded music revenues.
"With so much of the world in lockdown and live music shut down, in nearly every corner of the globe most fans enjoyed music via streaming," noted International Federation of the Phonographic Industry (IFPI) Chief Executive Frances Moore.
The growth in streaming revenues more than offset the decline in other formats' revenues, including physical revenues like physical album sales which declined 4.7 per cent, and revenues from performances which declined 10.1 per cent – largely as a result of the COVID-19 pandemic.
It is also worth noting that Africa, featured as a region in the report for the first time, with streaming revenues dominating. Apart from the pandemic, the shift from music models based on ownership like physical album sales from record labels to those based on access like streaming and downloading has been driven by diverse services offering widening choice, access to mobile phone and "demand for instant, real-time, anytime, anywhere access, facilitated by the integration of services across different platforms and cloud storage," according to IFPI's digital music report.
For independent artists this might be one major hurdle, especially if one doesn't know the correct ropes to pull. This is where a record label comes in handy. As such labels sign a range of agreements with their artists, including licensing and distribution agreements, which give them significant cuts of artists' earnings worldwide.
But this does not normally translate to big monies according to research done by The New York Times in 2018 indicated that an independent label might get less exposure, but actually get a bigger cut of the revenue from Spotify sometimes two times more than what a major-label artist might get; even though the latter has the best chance of getting a much larger audience.
Music streaming services like Spotify, Apple Music, Deezer, Tidal and Amazon don't have a fixed "pay-per-stream" rate when it comes to paying out music royalties to artists.
Due to unpredictable nature of streaming payouts, some platforms with lower rates may have more users and a wider reach so a stream from certain platforms might actually be worth more in terms of reach, exposure and building your profile. This way you might get recognized on your way up and probably ink some of those juicy deals.
Related Topics