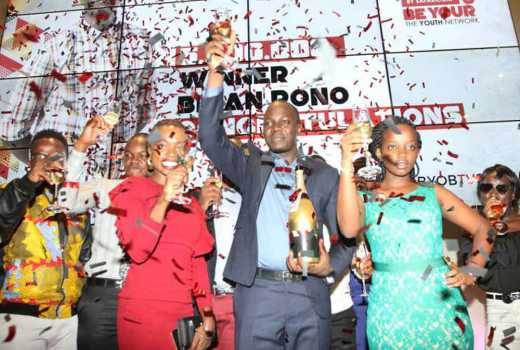 He came into the show as the unassuming potato farmer and standing among the thousands, few thought him a favourite to win the second season of the Be Your Own Boss (BYOB) TV show; now Brian Rono is smiling all the way to the bank after he emerged on top with Sh5 million and other goodies to show for it:
"Politics is not a career; it's a game, like gambling. But farming is." Those were the words of the man from Lembus, Baringo County, Brian Rono, after winning the Blaze BYOB TV Show season.
Brian was unveiled to the public on Sunday evening during the final's screening at the Aspire Centre, Westlands, Nairobi.
Before trying his luck at Blaze, Brian had taken a shot at the MCA seat for the Lembus Ward, Eldama Ravine Constituency, Baringo County, lost during the nominations and opted to give his support to the candidate who eventually won the seat.
The second season of the Blaze BYOB TV Show came to a dramatic end on Sunday evening, with Brian Rono walking away with the grand prize following 10 weeks of intense competition.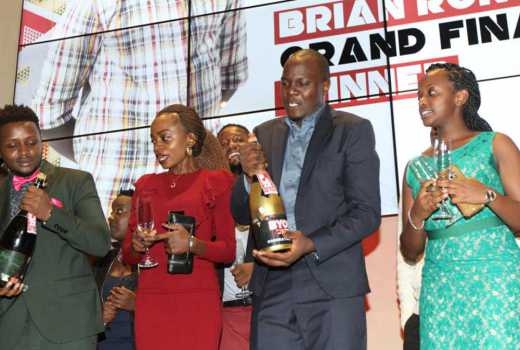 Rono, a 25-year-old potato farmer and actuary, beat 11 other contestants to emerge the last boss standing.
Notably though, there was not as much thrill and anxiety from the invited guests compared to last year's live screening that was aired on TV; this year's finals was pre-recorded and it was only a formality unveiling the winner to the guests and the viewers.
Throughout the competition, Brian stood out for his leadership and no-nonsense attitude, giving viewers a glimpse into the tenacity that saw him overcome a challenging childhood and financial constraints to graduate from university and set up his own business.
The Sh5 million grand prize package consists of Sh3 million in cash and the remainder in business support from Safaricom, which Rono says he intends to invest in his farm and use to expand his investment portfolio so as to diversify his sources of income.
"I am beyond overwhelmed right now. I came in with nothing but a desire to show my grit and win this money, because I know what I'm capable of achieving. I'm grateful to have had the opportunity to interact with strong, ambitious, young people; to learn from them and grow with them. Being chosen out of a group of 12 strong contestants is a very humbling experience," said Rono.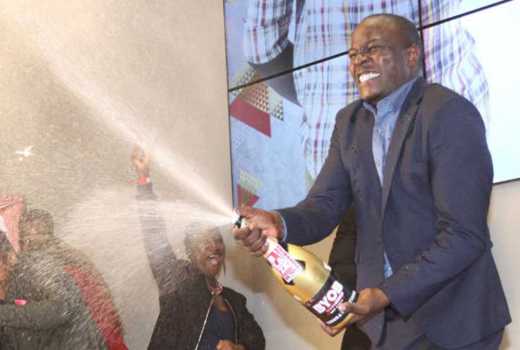 In second and third place were beef farmer Monica Nyawira and budding public relations and marketing consultant Daisy Wanzala, who won Sh1 million and Sh700,000 respectively. Babra Chege, who was evicted in episode 5, won the Sh500,000 Fan's Choice award after garnering 9,090 out of over 32,000 votes cast through Shake & Vote on My Safaricom app.
The second season of the BYOB TV show aired exclusively on KTN between February 5 and April 15, pitting contestants against each other in a reality TV-style competition in which each was required to show G.R.I.T: an acronym for 'Greatness Requires Internal Toughness'.
Viewers from all over the country tuned in every Monday evening to watch the contestants navigate their way through a wide range of challenges with the aim of proving their 'grit', endearing themselves to the judges – Caroline Mutoko, entrepreneur Trushar Khetia, and rapper and businessman King Kaka – and walking away with the ultimate prize.
"Not only did the contestants prove to audiences that young people have the willingness to work hard for what they believe in, they also stood out as role models for millions of Kenyan youth who are passionate about pursuing unconventional careers," said Charles Wanjohi, Head of Consumer Segments at Safaricom.
"The show is not just about entertainment; it is preparation for the real world of business, and Rono, Monica and Daisy proved to be the toughest of the 12," Wanjohi added.
Safaricom launched its youth network BLAZE in 2016 with the aim of providing relevant products and services to Kenyans under the age of 26 years. A sub-brand of Safaricom, BLAZE was founded on what Kenyan youth say is most important to them: freedom, empowerment and success.