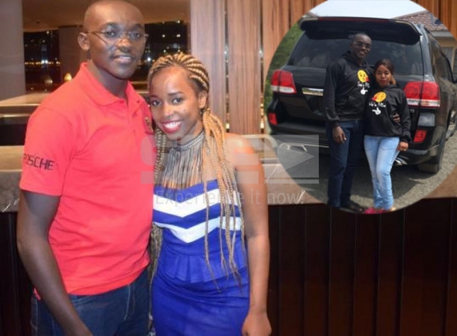 Saumu Mbuvi, the eldest of Senator Sonko's three daughters, poses and flashes a charming smile. She is known to have a way with words and in this case, she must be picking her mind carefully on this sensitive issue, her now public love affair with Benson Gatu, a politician in the making.
She takes a breath. In another minute, she starts to open up passionately, revealing how she fell in love with the young man in her life recalling the fond memories from 2013 when she set her eyes on him before falling in love.
On that cold June morning, like a stranger, she walked inside the Jomo Kenyatta University moot court where Benson was. He hardly knew her. She had never spoken to him but as a fellow student, she had seen him several times. At this time, Benson was a senior student and an aspiring students' leader.
What began as a formal conversation between the two later turned into some sort of a love-struck movie with the duo stealing glances at each other accompanied by suggestive smiles and unending laughter before they finally decided to exchange telephone numbers.
"I kind of liked him during that first meeting. One thing led to another and with time I went ahead to rally behind his campaign as one of the aspiring student leaders owing to my influence within the university," reveals Saumu, describing her heartthrob as a loving, ambitious and charming person.
Four years down the line, their relationship has culminated into deep affection. The two fell deep in love even as critics dismissed their affair as a passing cloud. And taking it to the next level, Saumu introduced Gatu to her family just to show how serious the two were.
But it was during Saumu's glitz graduation party held at her father's Machakos residence that brought everything into the limelight as Sonko offered Benson a chance to shine before distinguished guests.
Seated next to his would be father-in–law Sonko, Benson surprised many when he gave Saumu Sh250,000 as her graduation present. Many wondered how much he is worth now that he was splashing a lot of cash. Others argued that Sonko was funding him and nurturing him as a future politician, something Benson denies.
"The truth is, I have never received a single cent from him except for his occasional hospitality in offering me a drink or a meal once in a while," Benson remarks, adding that he has never been under pressure from the wealthy Sonko since he revealed that he was dating his daughter.
"I am a very simple person. I come from a humble background having been born back in the village in Mathioya. Loving Saumu is effortless. It is purely a mutual feeling," Benson rules.
"I find it unfair that people judge you when they don't even have the least clue who you really are. It is not for me to stop critics from saying that I am in this for the money as they are entitled to their opinion," he notes.
As for his much talked about future political career in Juja and Mathioya, which many claim to be funded by Sonko, Gatu denies ever being funded financially by anyone terming the grapevine a ploy by a section of his haters to tarnish his name and career through bad press.
"I have plans of joining politics but that shall come during the right time. When it happens, I intend to use my leadership position as a platform to give back to the community," he says.
So when should we expect to hear the wedding bells?
According to the independent lawyer-cum-businessman who operates within and outside the country, wedding plans are at the back of the couple's mind. However, it is not their top priority right now.
"At the moment we are busy embarking on other issues besides establishing my career further. We will cross the wedding bridge when we get there."
"It is right for me to state that I am not dating Saumu for fame or money as many people see it. When I met Saumu and began dating her I hardly knew she hailed from an influential family background leave alone being the Senator's daughter. Our affair is built on affection and mutual trust," he notes.
Saumu echoes his sentiments describing Gatu as one in a million.
"He is one person who truly cares, loves and understands. Just like in any other relationship, sometimes we have differences. We are not perfect and whenever we have a fight, he always takes the initiative to calm down the situation ensuring that we are good. Above all my parents appreciate him a lot and that completes us," concludes Saumu.