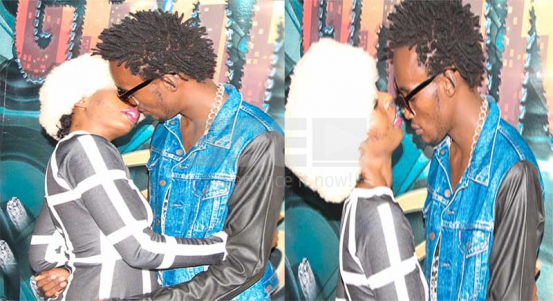 It is one thing for Dufla to be giving smitten girls sleepless nights across the region with his Tempo massive dancehall hit. It is another to have Cinderella herself falling for him. Just what is going on between the Ugandan dancehall queen Cindy and the Grandpa bad-boy?
After Cindy confessed that she asked to meet Dufla the first time she heard his song during a Pulse interview last week, the events that have been going on between the two in the last few days suggest that Grandpa signed singers could be falling for each other.
At first, on a number of occasions, Dufla was spotted at the 3D apartments along Mombasa road, where Cindy has been staying. It is said that he stole moments away from studio to flirt with her, a matter the Grandpa CEO denied when we reached out.
However, to confirm our suspicions that the two are now more than friends, Dufla accompanied Cindy during her tour concerts even though he was never meant to perform. And during this time, the two were caught on camera getting up-close. Neither of the two is bold enough to speak first so keep it Pulse as the events between these two 'lovebirds' unfold.