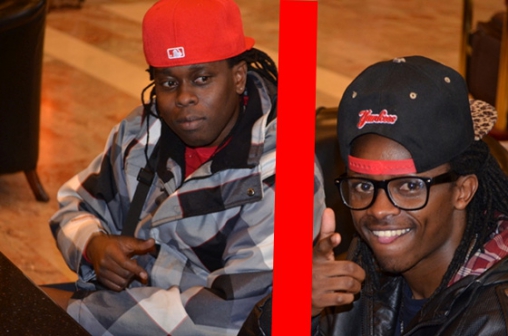 MC Fullstop has been out of the public eye for some time, nursing a liver disease that almost killed him. From the time the celebrated hype man, who was a fixture on K24's Riddim Up Live show, went MIA, so much has happened. Supremacy Sound lost the TV deal for the Saturday mid-day slot, with speculation being rife that DJ Juan caused it.
A female source with information about the inner dealings of deejay units in the country expounded more. ''K24 used to pay (DJ) Juan who, instead of taking it to Supremacy and sharing it with Fullstop, 'ate' it all. The people at K24 were not happy and decided to cancel the deal entirely," she told Pulse.
Juan and Fullstop had held the stable down ever since popular the DJ Simple Simon relocated to the United States. According to the source, who was part and parcel of the dancehall movement that enjoyed a good run between 2009 and 2012, Supremacy's collapse was inevitable. "Supremacy used to be a serious unit with hardworking personnel when it started," revealed the source.
"Problems started to happen when they recruited these young DJs who only care about alcohol and random sex.
Supremacy stopped being about reggae and dancehall and it became a unit of boys that hosted sex parties and drinking binges." Juan is seen as the main culprit in the current troubles, with two other former members of Supremacy Sounds referring to him as a 'snake'.
Even as the Supremacy website still holds that the unit is intact, we can reveal that most of the members including Fullstop, Miss Ebony, DJ Smarsh and their former manager Benson Kyendo either left or were thrown out. "Yes I was kicked out of Supremacy Sounds," revealed MC Fullstop. Now about a month into a new show dubbed Riddim Vybz, ironically still on K24, the veteran reggae head was not amused at how things panned out.
"It all happened unceremoniously because I had gone for a show to Dubai immediately I recovered and I was explicitly told that my services were no longer required by Supremacy Sounds. It was disappointing, considering the much I have sacrificed for the unit, but I guess life has to move on.
I am now doing Riddim Vybz with DJ Smarsh," he further explained. While not wanting to sound bitter about his eviction from the party, Fullstop was categorical that Supremacy lost the K24 gig over unprofessionalism. "I was the face and sound behind the show, and ever since I got sick, things began to be run haphazardly. I was told some of the people that were hosted on the show were below par and the executives at Mediamax must have noticed that too," said Fullstop, who has fully recovered and has since stopped taking alcohol
Supremacy warmed the hearts of many, with their legendary 10-year anniversary at Mojos in 2014 being a massive a crowd puller. Along with Dohty Family, the two reggae stables came to represent the cool, urbane Nairobi life far removed from the rowdy youth known to throng reggae events before that.
The two units competed for supremacy much to the enjoyment of fans, who got even better entertainment. With the goings-on, it seems Dohty Family has moved ahead of the pack, with the Thursday reggae at K1 now a staple among fans. Asked whether Supremacy had collapsed, Fullstop was non-committal, insisting that he was more focused with doing his own thing. "I do not know for sure.
Only the members still left can answer your question. "Juan played down the rumours, insisting that Supremacy was still full house. "Supremacy is still intact. Even Fullstop has not left, no one has left," he said, exposing the rift that has split the stable and its loyal reggae fans into two camps. What about the defunct show at K24, any detail to shed some light? "We just felt we needed to move it to another station and we are in the process of doing so," he said.