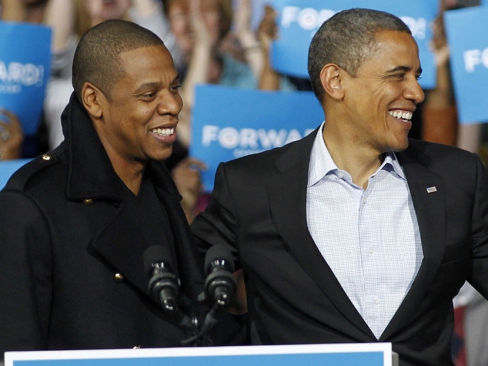 Obama has always associated himself with rap music - a fact that has seen him attacked by conservatives, claiming he supports misogyny, derogatory references of women and violence that has been a feature of rap for over two decades.
While still a young Senator and an aspiring president, Obama met with southern rapper Andre 3000 and P Diddy, who interviewed him for popular music channel MTV.
In 2007, he was featured in hip-hop magazine Vibe, before
'Brushing his shoulder off' in the 2008 campaign, a gesture popularised by Jay Z's Dirt Off Your Shoulder. The campaign period saw the Illinois Senator get public support from hip-hop artistes among others Will.I.Am, Nas, Big Boi, Ludacris, Young Jeezy, Common and Bow Wow.
However, respected West Coast rapper Ice Cube warned about rappers deeply associating themselves with Obama and making him lose the elections.
"I think the first thing (the hip-hop community has to) do is let the man become president," Ice Cube opined.
Nevertheless, Chicago rapper Kanye West and Brooklyn's Jay Z are the two artistes who have emerged as the frontrunners in getting Obama's attention, time after another.
Obama versus Kanye has been an on-going affair since 2011.
The two have been on a 'supremacy duel' ever since Barack Obama referred to Kanye as a "jackass" after the Taylor Swift episode. In a 2012 interview, the President reiterated his observations of the eccentric artiste.
"He's a Chicago guy. Smart. He's very talented."
"Even though you called him a jackass?" he was asked.
"He is a jackass," Obama said, in his likable and perfectly balanced voice. "But he's talented," said Obama who is also known to love basketball.
The 'beef' has also been fuelled by Obama's preference of Jay Z over the Gold Digger artiste. The egoistic artiste, who is driven by the need to appear the best and most important person in rap, has not been able to win over Obama, who would easily answer any query about Kanye than he would explain his foreign policy on Syria.
Kanye once said, "I love Obama. He called our house before. He knows that. Don't try to pit us against each other."
In a quick rejoinder, Obama explained, "I met Kanye twice. The first time was when I was a senator and he was with his mom and he had just gotten big... And then about six months ago he came to an event. I love his music," Obama responded. "I don't think I've got his home number."
Ouch. That's got to hurt, and Kanye did not take it lightly, saying this in a London concert in 2013, "I don't give a [email protected] what the President's got to say."
Obama and Jay Z, however, seem to be on the same wavelength. The two are friends and are both proud to publicly proclaim it.
Obama revealed that he has always had some Jay Z on his iPod alongside some Lil Wayne and Ludacris, a statement that massaged egos in the ever-boastful hip-hop world. He also explained that his admiration for the Brooklyn rapper and savvy businessman was stemmed from the fact that he can "help shape attitudes in a real positive way."
In 2012, when Beyoncé gave birth to Blue Ivy, the Obama called Jay-Z to offer some fatherly advice.
"I made sure that Jay-Z was helping Beyoncé out and not leaving it all with Beyoncé and the mother-in-law," he told a Cleveland radio station.