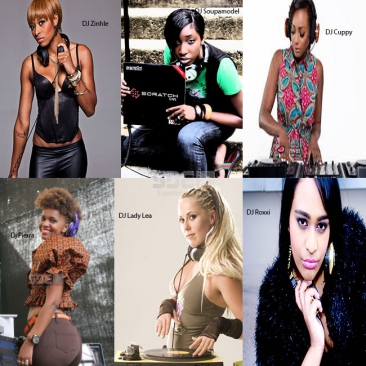 It's 3.30am and the massive crowd at Crayfish, where the Madaraka weekend big party is taking place starts shouting: "We want Pierra!" The adorable DJ is backstage, changing. She is a bit nervous. The expectation is high.
She takes her long jacket off and the crowd screams as she steps on stage, her curvaceous body spicing up the magic.
She charges the crowd, teasing them with a popular reggae hit to which she dances on and off the decks. The crowd cheers wildly. She is a phenomenon.
She may not be the best DJ in Kenya right now but her rising popularity has exposed her as the fastest rising female DJ in Africa. Her calendar is full with shows across Africa and the US.
Zinhle Jiyane aka DJ Zinhle
Arguably one of the most respected spinners from down south, she became the first female DJ to release a house compilation in South Africa setting the ball in motion.
A resident DJ on popular show Jika Majika and Y FM radio, the 31-year-old has also had a lucky stint on TV as a presenter and appeared on popular series like Rhythm City. Dating popular Nigerian rapper AKA for three years now, their private affair has sparked interest as they expect their first child.
Deshnie Govender aka DJ Roxxi
To prove just how good she is, the native Indian born and raised in South Africa became a nominee in the first Global Spin Awards aka the DJ Grammys in 2012.
The self-taught DJ who got exposure at her mother's club would eventually choose her passion of music, even dropping out from the university in her second year while studying journalism. Popular for mixing hip-hop, house and electro, the 31-year-old who doubles as a songwriter, actress and TV personality made another first by becoming the first female DJ in South Africa to have a number one single titled Away, a collabo with Nic Billington a fellow artiste and friend.
DJ Lady Lea
Ranked as one of the most booked DJs in South Africa and having had over 20 residencies, at one point guest deejaying at almost every club in SA, she is known for her blend of old and new sounds, creating unique house sets. She is well-travelled and is known for her crazy hair.
She is the brains behind Divas on Decks, a female DJ agency that was launched in 2009. A producer as well, she successfully turned her record shop in Pretoria into a studio and recording label called Flipside affording the luxury to produce her own music and albums.
Florence Otedola aka DJ Cuppy
Daughter to billionaire business tycoon Femi Otedola, the Lagos-born beauty in her early 20's will typically do a hip-hop set featuring her favourite rapper Jay Z. Currently undertaking her masters in music business at New York City University, she is enviably an intern at Roc Nation soaking in all she can.
With over seven years of experience, she has headlined major clubs in Lagos and London and made appearances in other big cities too. She has featured in several publications including Forbes Woman Africa and recently floated her own entertainment company called AVMG, at the same time making her own music.
Kehinde Olatunde aka DJ Soupamodel
One of the leading Nigerian-American DJs, she is a known name amongst entertainers in America taking into consideration she is T-Pain's official DJ. A music producer as well, she is heralded for bringing a new genre of music she calls 'Afro-EDM'.
She is currently the CEO of 'MusicBlvdGroup' a full-service music production company. She describes her sound as a bit of everything with weird twist, she released her first single Number featuring RnB crooner Brian from Day 26 and teen rapper Issa.
DJ Nyce
A fast rising DJ in Ghana, she managed to beat reputable names to scoop the Female DJ of the Year award at the 2015 Ghana DJ Awards, adding to her major accomplishments. The dark-skinned beauty with flawless skills on the turntables is one of the common attractions in one of Ghana's top clubs - Paparellis Pub.