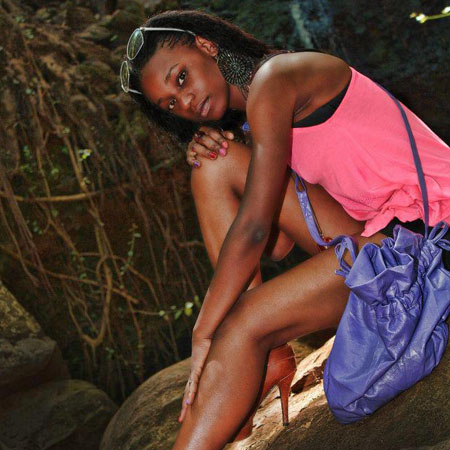 Pulse: Your name is Dohr, like a fashion designer ...
Dohr: My full name is Doris Achieng' Odhiambo but that would be boring as a stage name, so, Dohr. I am the new 'it' girl in Calif Records, and my producer is the super cool Clemmo.
P: Trèscool. So why did you choose to go into music?
D: Music is a part of my soul. Without it, it's like a part of me is missing. It also gets rid of all the annoyance in the world for me.
P: Alright, so music is your catharsis. What song of yours is out on airplay and radio?
D: Calif Records recently released my song 'Nimechoka.'
P:  So how were you discovered?
D: Way back in 2007, I was at Splash for some event where Jua Cali and Sanapei (Tande) were to do the song 'Kwa Heri.' Sanapei didn't show up, so I just asked Jua Cali if I could step in. He agreed, maybe for comedy, but I 'wowed' the crowd. Churchill even invited me to join the VIPs in the tent, backstage.
P: You were fifteen then. Were you not overwhelmed?
D: Life is a short time span, so it is better to try and achieve a lot musically when one is young. My mom said I had to clear high school and college first, and now I am with Calif Records.
P: So you meet and mingle with a lot of top local talent there?
D: Rabbit is great because he always points out what's wrong in the lyrical bits of my music. And Abbas has shown me a few tricks of production. I want to learn and be the very best.
P: Why do you think there are not too many young female musicians?
D: I donno! Some like Sana started very early with the Coca Cola created 'Pop Stars' then quit to follow different dreams.
P: What do you think of Risper Faith using her 'Money Maker' to make music?
D: Some young ladies should just stick to being 'socialites,' whatever that is.
P: What do you think is it?
D: In Kenya, it's like it is posting nudies on social media. But like Tamima once said on the (KTN) Pulse Review, having a big a** is not a talent.
P: You look like a bit of a model yourself ...
D: I am, although every tall and slim lady these days brands herself a model, even when they are just church ushers. I also won 'Miss Parklands' beauty pageant in 2012, when I was twenty.
P: We like juicy insights into celebs. Give us three names and peeks.
D: Kendi, who you wrote about in your main story, is a hustler who knows how to play her game. Anto Neo Soul can feel hot, but he's quite gifted. I have performed alongside Scott the Violinist, and would like to do a full collabo with him, someday.