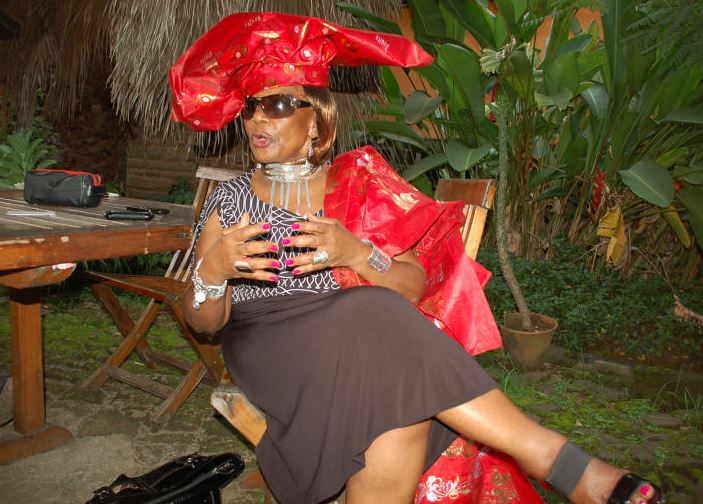 Condolence messages are streaming in following the sudden demise of veteran politician Orie Rogo Manduli. The former Journalist has been described as a trailblazer due to her many firsts during her time in the limelight.
Manduli captured the attention of many thanks to her popular and unique trademark fashion statements. Whenever she walked into a room, the mother of four oozed confidence, class, and a great sense of humour. Her wardrobe majorly consisted of African print dresses that she would complement with her ever-stylish traditional headgears.
Manduli, as many might be aware, was a one-time Miss Kenya at the tender age of 16. However, her star continued to shine, becoming the first woman of African descent to participate in the East African Safari in 1974.
The outspoken politician who never shied away from speaking her mind often revealed that her headgears were the most important accessory. According to her, stepping out without one was like a bride going to her wedding, fully dressed in her gown but lacking make-up. Her headgears completed her look.
Her African attires become her fashion statement, further fueling her popularity across the region. Whenever she was spotted, Manduli, who got remarried in 1980 to Misheck Norman Manduli, a descendant of the Lunda dynasty — one of Zambia's royal families, never shied away from explaining why she enjoyed standing out.
At one point during an interview, she made it clear that being afraid was not in her nature.
"I'm rebellious, capable and different, I know it. I have never wanted to be anything else but Orie Rogo-Manduli. I'm bold and speak my mind without fear. I'm fastidious and never boring. I do not apologise for I am – you just have to learn to live with me. I have always been outspoken person who is never afraid to be different," she said.
Here are a couple of photos that proved the late Orie Rogo Manduli was indeed the 'Total Woman' as she referred to herself: