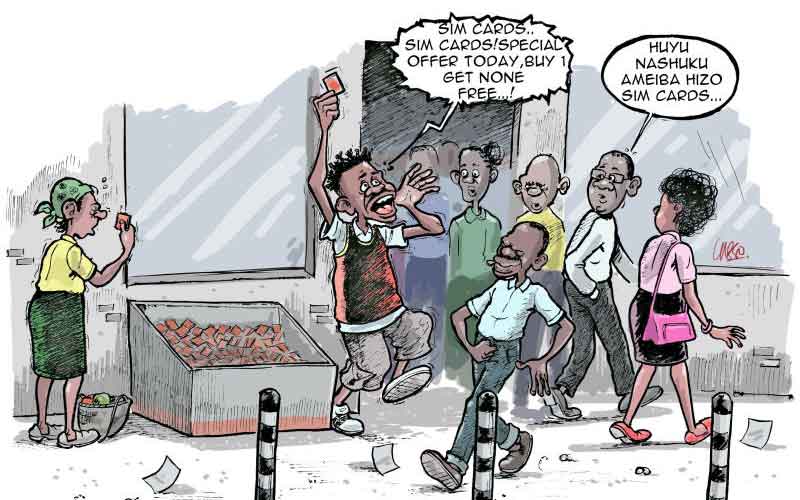 I was once a sales and marketing representative hawking tons of Sim cards and airtime scratch cards. I was trying to sell them to people who would avoid me like an unwanted pregnancy.
My supervisor had threatened to fire me if I did not do something about my low productivity.
He had, on several occasions, advised me to change my general appearance to look much more appealing to people and attract potential customers.
He told me that no one would buy anything from someone who looked like a homeless drug addict and had a reeking case of severe halitosis.
I told him to stop being too hard on himself, and even pointed out that his wife was still with him nonetheless! He pointed out that he wasn't talking about himself. After my last warning, I had to sell something to keep my job.
Soon after, I noticed a well-dressed man standing outside his car talking through his phone, and he looked like my first customer in weeks. I tactfully zeroed in on my 'victim' and approached him as he spoke.
But the moment he saw me making a beeline for him, he turned around to show me his back, an indication that I wasn't welcome. The rejection didn't discourage me, however.
I got to him and stood behind him sheepishly with my goods as I waited for him to finish. When he finally did, he turned around and was annoyed to see me standing there.
Before I could say anything, he waved his hand to dismiss me and said that he didn't want a Sim card.
"My! My! My! What a voice!" I said delightfully. The man glowered at me and asked me to go away because he was not interested in whatever I was trying to sell him.
"Aahh," I sighed pleasantly with my eyes closed as if appreciating something glorious. "Such a fine voice. Such a deep, rich baritone. That timbre, goodness! Are you by any chance a musician, sir?"
"A musician?" he was confused. "Of course, I should have known that a man of your calibre is a modest man," I responded admiringly. "Even with your fame, fortune and talents, you are still firmly rooted in humility and subtlety. What a gentleman."
"What are you talking about?"  "Oh yes, indeed you are," I said, nodding slowly with certainty. "I know I've listened to this very voice on the radio before, masterfully crooning a delicious ballad for a lost lover, wooing her back to your bed in the most angelic tenor I've ever heard."
I then gazed aloft as if reliving the music and sniffed a little as if moved by the memory. The scowl on the man's face had disappeared. He opened his mouth to say something but I beat him to it.
"And, my, don't you look as good as you sound! Wikipedia says you are 55, yet here you are, looking like a young healthy bull that all the farmers want for their cows."
He blushed. He seemed to be slowly creeping out of his shell. He begun softening up to the praise and adoration that had previously made him feel uncomfortable, and he now appeared to be at ease.
 "So tell me, sir," I continued. "Where can I get your album?" The musician smiled shyly yet proudly and thanked me for the compliments, and confirmed that, indeed, many people – his mother and an ex – had told him that he has a wonderful voice.
He apologised for not having an album yet, and assured me that our encounter had inspired him to hit the studio and create some music.
"Then do you think you could sing a number for me? A nice, short tune?" I pleaded. "Listening to you live and direct would be a dream come true."
The artiste said that it had been a while since he last sung, but that he would be honoured to bless me with a line or two. The first note was off-key, so he cleared his throat and started again, but worse off, screeching his heart out, doing his best to give me a hernia.
"Wow!" I applauded my idol's performance. "This is a rare gift. Can I have your autograph?"
Then came the moment I had been waiting for. While I found I a piece of paper and a pen from my backpack, I made sure that I was strategically holding my merchandise for the untrained musician to see. It didn't take long for him to bite the bait.
"I see you are selling Sim cards," the happy man said, looking at my goods. "Please let me buy three of them. It's the least I can do for a fan."
Would you like to get published on Standard Media websites? You can now email us breaking news, story ideas, human interest articles or interesting videos on: [email protected]