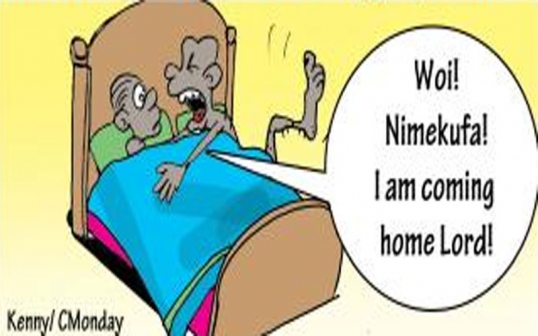 After his girlfriend threatened to leave him for being clumsy in bed the college student sought to redeem himself
He took libido-boosting pills before going for a bedroom marathon with his disgruntled girlfriend.
During throes of passion, lovers climax differently. There are those who contort their faces into tight little knots, you would think they are being strangled. Others break wind and wail like crazy, you would be forgiven for thinking they are under attack. Some cry or endlessly giggle like lunatics or tear bedsheets out of excitement.
However, none of these was the case at a hostel at a college (name withheld) in Thika Town mid last week when an 'amorous congress' between two love birds went awry.
Desperate to redeem himself after his girlfriend threatened to dump him for being clumsy between the sheets, the male student, only identified as Ricky, took libido-boosting pills before going for a bedroom marathon with his disgruntled girlfriend.
Poop, however, hit the fan, causing the 24-year-old fourth year student to collapse while desperately trying to satisfy her, leading to a scandal that left the students and staff members in shock.
A student in the know told this writer it all began after Ricky came under sharp criticism from his girlfriend over his boring and below par performance between the sheets.
At his wit's end, a panic-stricken Ricky, who was not ready to be dumped, invested in the infamous blue pill to fire up his loins.
However, what was expected to be steamy session turned tragic after he reportedly started gasping for breath before collapsing into a heap.
The terrified girl screamed, attracting students and hostel wardens who ambulated him to the health unit. It is alleged Ricky had earlier on shared his tribulations with some of his friends with whom he brainstormed and came up with possible solutions.
Libido-boosting pills
"He was desperate to turn around things for the better and finally redeem himself after friends shared with him tips. He took the pill and washed it down with alcohol, hoping it would help him give his best and eventually win back trust and favour from his girl," a friend who sought anonymity told this writer.
The source admitted that they had asked around for the pills, which they hoped would salvage the relationship.
"He had lately been depressed and frustrated, after his girl threatened to dump him, for falling short of expectation during intimacy. We are not sure if he took an overdose, because we were told they are not harmful when taken in the right dosage," said the terrified friend.
"Thank God he is still alive, we were really scared, cases of men who have given up the ghost after using the pills wrongly are rife," he added.
Ricky visited his girlfriend, hoping to cause fireworks, only to be overwhelmed by the drug's strong side effects minutes later. While in his birthday suit, Ricky was wrapped in a bed sheet and quickly rushed to the institution's health unit, as some of the students in the hostel burst into gales of laughter.
Luckily, he was quickly attended to and regained consciousness moments later.
His girlfriend, who had accompanied him to the health unit, melted into the crowd to avoid embarrassment and questioning.
Medics at the health facility expressed their shock at why such a young man would resort to libido-boosting pills when his systems and weapon of mass procreation are expected to be in tip top condition.
Ricky, who has since become a subject of mockery, was discharged but advised to seek counselling as well as a long term solution to his low performance problem.