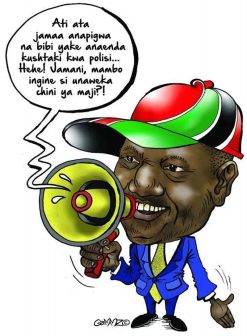 Kenya's former president's — and to some extent the current one — sounded incoherent and choppy when making off-the-cuff remarks. A question that continues to beg an answer is whether it was all contrived or it was testimony to their horrible oratory capacity.
Former President Daniel arap Moi was a master of the off-the-cuff where his most important pronouncements would be made, and where — in journalistic terms — the story lay.
Everyone longed for that moment, after the verbose official speeches, when the head of state would ad-lib on important national issues of the day. But Mzee Moi never made it any easier for them. More often than not, he would never finish his sentences opting for staccato approach to dropping bombshells.
Just when you thought he was dropping it, he would shift gears and leave the audience to make intelligent guesses as to what he actually meant. With that, sadly, "Nyayo" created a thriving political brokerage industry of political interpreters whom, like dream interpreters of yore, purported to know what he meant to say, whom he was displeased with and who carried favor with him.
Moi tortured the country with this style for decades and left in 2002. In came President Mwai Kibaki, Moi's deputy for many years and a London educated economist. A great orator in his hey days, Kibaki had once been christened "a gifted orator with a courteous mien" by an observer. He never disappointed in parliamentary debates, political rallies and media interviews.
But that was until he occupied the hallowed seat of power in 2002, Kibaki slumped to the Moi style instantaneously and with little or no difficulty. His extempore assumed a rather unintelligent mien, almost repulsive, sometimes piteous. Like Moi, he would never mention names of people or give specifics of situations. He excelled in generalities and never spoke in first person of "I will do this" or "I will refuse this."
Some people described him as "vintage baba", others blamed his 2003 road accident and attendant stroke while some, like myself, believed it was all contrived to meet the demands of his new office. We may never know the importance of of the "virtue of incoherence" in political speeches partly because most of us have never and will never achieve ultimate political power.
Sadly, the current Jubilee regime appears to disregard this virtue with abandon. While the president appears more inclined to Kibaki and Moi's "incoherent approach" to off-the-cuff speeches, his deputy is not. I watched a recent interview the DP had in a local TV station and was astounded by the recklessness with which he addressed issues, defying all known rules of not just officialdom, but public decency as well.
Maintaining honour
In the interview, which I believe should form the basis of serious discussions of 'what not to say as Deputy President', Ruto informed the country of his dislike for the country's top most judge at the time, over his ear stud or is it an ear ring? Whatever! He also updated the country on a domestic fight between an opposition Senator and his wife and the accusations that the Senator's wife had been spotted at his (DP's) office before the domestic quarrel.
I can imagine President Kibaki and President Moi cringing on their seats. When you are bestowed with honor of such big office, you cut the street talk and leave that to the masses. You can still talk about the Senators domestic squabble without necessarily mentioning him and reducing the stature of your office. You can express your dislike for the Chief Justice, a leader of one of the three arms of government, in a more subtle manner.
In short, high public office bestows on one a least talked responsibility of maintaining honour in the office. It is this duty which predisposes in leaders the habit of garbling or vagueness in non-official speeches as well as their preoccupation with generalities. Yes, it makes them boring to a fault, but it helps in maintaining honor of their offices and elevates them from the crowd. Is the DP reading this?