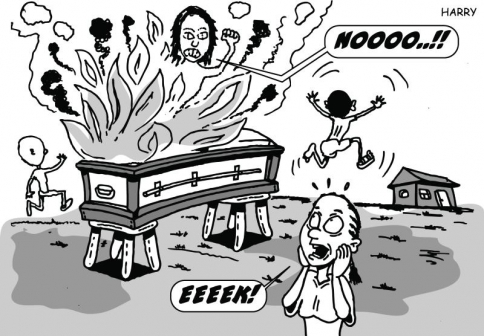 A bizarre account of a corpse setting itself ablaze occurred on Wednesday last week in Mumias when the corpse was laid in a house "she did not like", according to area residents.
Sixty-six-year old Evelynn Were's body went ablaze without any known cause of fire something that left the Enyapora village of Mumias in Kakamega County scratching their heads for answers.
Evelynn, who had died on December 4, 2015, was allegedly not in very good of terms with her husband who apparently was setting her a new home.
Scheduled for burial on Friday, Evelyn's body lay at her new home when a bizarre fire struck, consuming her casket and leaving her body a charred remain.
"We were seated in the house where the corpse laid and alas, a bang sound and the next thing we saw was fire razing Evelyn's coffin. The coffin cover popped in the air and her body was ablaze. Soon the smell of plastic captured the air, "said Keziah Makokha the deceased's grandmother.
Many mourners who had gathered at the homestead took to their feet thinking a power trouble had cropped only to learn later that the electricity in the home was steady.
"We don't know what happened, a fire just descended and consumed the casket and the corpse to shreds," Susan Makokha a mourner told Crazy Monday.
According to assistant chief Elvin Obala, of the Mumias township sub location, no one had lit an open fire which could have been a probable cause, those keeping vigil insist they were awake at the time and as is, no one could establish the exact cause of the fire.
However, a backstory runs that Evelyn was the first wife in this homestead and was never able to bear children and her husband married two other wives.
"Their marriage before her death was rocky, her husband was building her a new home the house was completed after her death and it is where her body lay. They had a running court battle on a family matter and seemingly she died an angry woman," said Susan Makokha.
This was also affirmed by the assistant chief Obala,
"It is like Evelyn did not want anything to do with the house she was built she had vowed not to stay in it even in her lifetime, that is why she set it ablaze in her death," said a resident who preferred anonymity for he is not supposed to speak on behalf of the family.
Wanga elders met to discuss what rites must be performed to appease her departed spirit but church leaders countered them and insisted on prayers.
The only part they agreed on was to bury the corpse on Thursday, a day earlier than planned.