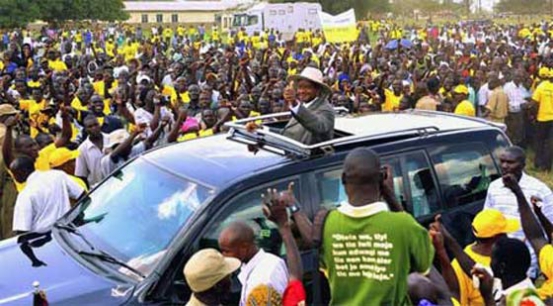 As usual, there is always free money being dished out by politicians during campaign time. And President Yoweri Museveni recently declared at a rally in Busia, Buteba Sub-county, that he owns all the money in Uganda. While urging locals not to "make a mistake by voting for the opposition and their MPs," he told them it's him who controls the money they need to have social services.
A source has also whispered to me that the reason the Uganda shilling is doing badly against the US dollar is because campaign money from donors has been 'poured' into the country. Tales about locals fighting over campaign money, too, abound. Just the other day, a man was speared to death in Olilim Sub-county over Sh5,000 campaign money given to him by a politician to distribute to voters at a drinking den.
However, the unfortunate bit about this whole scenario is that people who really need such money can't access it. A case in point is an ailing veteran Kadongokamu (local music) singer Mamuli Katumba, who sent out a plea in the media for his fellow artistes, politicians, fans and the general public to participate in a charity walk to enable him raise Sh5m to fly to India for a kidney operation. The 10km charity walk was to be from the Uganda National Theatre in the city center to Ggaba beach for a concert to launch the fundraising.
When D-Day finally came on Sunday, October 18, only a few artistes showed up for the 'Save Mamuli Katumba Charity Walk.' They did not even buy tickets which were quite affordable and available at every corner of the city at Sh1,400 for VIP tickets. Celebrity tickets were going for Sh580 and general tickets cost Sh285.
The low turn-up could not even be blamed on El Niño as Mama Fina (our chief-witch) had been consulted to ensure that the weather was fine. Unfortunately, after a whole month of campaigns, only a paltry Sh19,000 was raised. The Chief of Defence Forces, Gen. Katumba Wamala, was so embarrassed that he offered a further Sh264,000 to help his namesake.
The event organiser should have approached people with real money and given them a red carpet treatment. He should also have dubbed the event with an election-based theme and had a mock burial of any of the contesting parties.
The director of Da New Eagles Band, Geoffrey Lutaaya, summed it up best when he remarked that, "I am not quite shocked because most Ugandan artistes are money-hungry and if they are not going to get any money somewhere, they cannot turn up. Many attend burials because they know people will be excited to see them and praise them."
The politicians would have turned up to give speeches and be seen as generous contributors, and the public would have arrived in droves to gawk, point and take pictures along the way. Katumba should have plucked a leaf from the play book of the rival artistes who organised the 'Tubonga Nawe' dinner at Speke Resort Munyonyo on Friday, October 16, 2015.
The dress code was yellow (NRM colour), as the dinner was organised in the guise of unveiling the campaign song to show solidarity with the NRM flag bearer and incumbent president. The song showers praise on the president and the NRM party for the work they have done for the past 30 years.
The real reason was obvious to all and sundry— they wanted a sip of the campaign waters. Our president is a generous man, and knows his subjects quite well — most of our artistes are wannabe celebrities and tend to live on handouts. They received a charitable donation of Sh11.4m to start a sacco to help uplift the lives of musicians in Uganda.