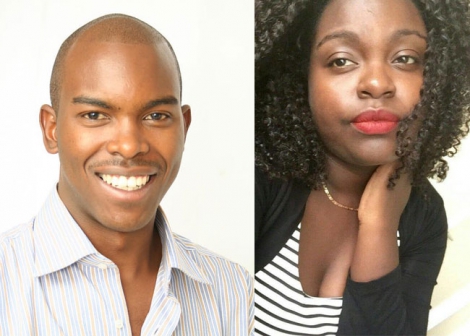 A senior official at the Ministry of Youth and Public Service took to Facebook claiming a man who is her unborn baby's father, attempted to murder her.
Lydia Mathia claims that Gabriel Gathuka Kagombe tried to kill her and their unborn baby on August 17 2015, allegations that Kagombe has denied.
In a Facebook post seen by The Nairobian, Lydia said that, "We had agreed to meet in his office at around 6.30 pm. I was about three months pregnant then. The meeting was more about a business venture we were trying out. We had general conversation about some issues we were having. It got a bit heated, but nothing I considered too serious."
On the same post, Lydia claims that Gabriel grabbed her by the neck, threw her against the wall and started punching her all over.
The post further reads: "He threw me on the floor and kicked me about, dragging me around. All this time, I was just clutching my tummy, afraid of what these blows could do to my baby. I did not actively fight back. But he continued. I couldn't stand the pain and he wasn't stopping.
So I screamed as loud as I could, hoping somebody, anybody, in the office block would come to my rescue. He grabbed my head, pressed his hand against my mouth and shouted repeatedly, shut up! Shut up! Who do you think you are? Shut up!"
On the post, she also accuses Gabriel of pointing a gun at her and threatening to shoot her when she locked herself in the toilet.
"I could see the gun clearly in his hands. He aimed it at the door as if he meant to either shoot the door or me through it. I was in the path of the bullet, so I stepped away from the window from where I screamed before hiding in a corner. I immediately dialled one of my friends and told her to call the police because I was about to be killed.
He must have heard me making the call or realised that people would hear the gunshot, I don't know. But he must have left at some point. I didn't even realise things had gone quiet because I just went on screaming bracing for that gunshot. The next thing I saw was a lady telling me to come out," read part of the post.
Reacting to the post, Gabriel claimed that Lydia was not of sound mind.
"I am willing to take her to hospital to get her checked because I just don't understand how she can make up such a story," Gabriel told The Nairobian. He claimed that no such incident happened in his office and that Lydia was just a friend.
"I'm a very faithful family man, so I don't know why she is claiming that is our baby. I have never had sexual intercourse with that woman. She is not even my type. If she claims the baby is mine, I'm more than ready for a DNA test," he said, adding that they fell out over a business deal gone sour.
"Lydia and I did some branding for Huduma Centre which was worth Sh19 million. She stole the money from our joint account and that's when I cut her off as a friend," claimed Gabriel.
Lydia who claims she has sought legal redress maintains that Gabriel is the father of her unborn baby, claiming that this is not the first time she was pregnant with his baby. This is not the first time Lydia is in the public limelight.
In 2013, she filed a case against the Independent Electoral and Boundaries Commission (IEBC) at the High Court seeking the nullification of senator Naisula Lesuuda's nomination on grounds that it was not done above board.
Related Topics