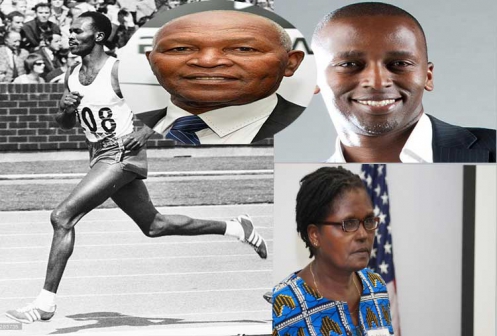 He is a breathing, living legend. The first athlete to receive the Olympic Laurel Award in what will be a tradition in subsequent Games. Kipchoge, of whom President Mzee Jomo Kenyatta often joked has "another name that can't be pronounced", was garlanded "for outstanding service to the Olympic movement" during the opening ceremony of the 2016 Rio Olympics in Brazil.
Kipchoge Keino: The former member of the International Olympic Committee and current chair of the National Olympic Committee of Kenya, is a two-time Olympic champ having clinched gold in the 1,500 metres during the 1968 Mexico Olympics after jogging more than one and a half kilometres to the stadium after being stuck in traffic.
 He defeated world record holder, American Jim Ryun, by 20 metres — the largest winning margin in the history of the event. Never mind doctors had confined him to the Olympic Village over gall bladder issues, but he still went on to take silver in the 5,000m behind Tunisian Mohammed Gammoudi before collapsing in the 10,000 metres with two laps to go. Compatriot Naftali Temu won.
The inductee in the 1996 World Sports Humanitarian Hall of Fame and the 2012 IAAF Hall of Fame, was granted 'Freedom of the City of Bristol' for the first time since Sir Winston Churchill. The elite GSU officer had won in other championships like the All African Games and the Commonwealth Games besides smashing world records, but it was his double Olympic victories that cemented his place among Kenya's homespun sporting immortals and for whom the Kipchoge Keino Stadium, Eldoret, stands in his honour.
Phyllis Keino: The spokesperson for Bread and Water for Africa is a registered nurse. She founded Lewa Children's Home inside the 500 acres acquired from the Craig family in 1987. She also runs Kipkeino School, a primary boarding founded by hubby, 'kip' in 1999 besides the family's Baraka Farm. The recipient of the 2006 Visionary Award from Christian Relief Services and the 2010 World of Difference 100 Award from the International Alliance for Women, is a mother of seven including famous son, Martin Keino.
Martin Keino: Alumnus of Fork Union Military Academy and University of Arizona (BA, interior design, 1995) became a pacesetter in a 10-year career as a 'rabbit', setting pace for seven world records including those of Kenya's Daniel Komen, and Ethiopia's Kenenisa Bekele and Haile Gebrselassie, before founding Keino Sports Marketing. The TV host and sports columnist, is a model, motivational speaker and director of the Youth Fund.