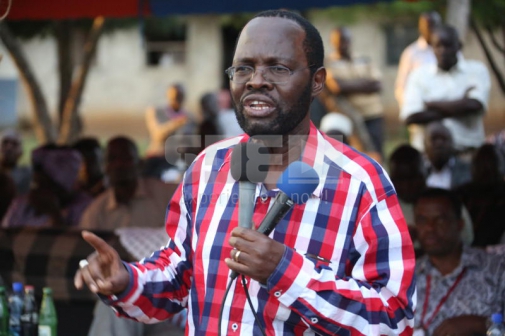 Kisumu Senator Professor Anyang' Nyong'o has dismissed claims that he is a mean politician with no meaningful development record.
The Senator recently came out clean for the first time to answer to his opponents' allegations that he is not generous despite his massive wealth.
Nyong'o while speaking during the anniversary of Nyando Politician Patrick Ouya's father in his Kabonyo home, said his money is only spent on worthy courses.
"Who among you has ever seen me take a meal without sharing with a friend? I only hate people who are well-dressed, but still beg for Sh5 or 'mandazi'. I tell such people to sell their clothes and buy mandazi because the money I earn goes towards harambees, party activities and helping during funerals," said Nyong'o.
He added: "I recently went to Olasi with two tracks of food stuffs to give to residents who had been affected by floods. Can anybody mean do that? Get to Kisumu Rural Constituency where I have done a lot of development."
He said even God, when creating Adam and Eve, gave them the ability to work so they could fend for themselves, hence anybody who has that ability should not bother others begging for things they are capable of using their strength to earn.
According to the Senator, the leaders who engage in corruption before handing out the same money to the public have poisoned people's minds.
"Good leaders look at the bigger picture and make development projects which benefit everybody, but not going at the roadside to give handouts which have no impact on the lives of the people," said Nyong'said.
Nyong'o has declared his interest in the Kisumu's gubernatorial race. He will be however have to face off with Governor Jack Ranguma as well as businessman Hezron Mc'Obewa who has also shown interest.