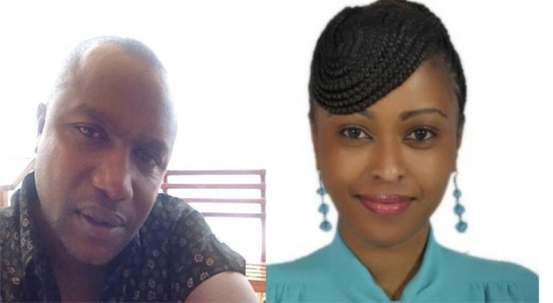 I don't know where to start from because Chris was my everything; my love, my husband, my best friend, my mirror, my mentor. Chris, I am who I am today because of you, you have changed, molded grown me into who I am today.
It's hard to figure out how my life and that of our children will be without you, knowing that you will no longer be there... is torture for me. How will our life be without you? How will Tamara and Tendai grow without you? You have left us too early, remember how we planned about our later years when we will be 70 years and the kids would be all grown up? Now that is no more.
I will miss you dearly my love, my friend and everything. I can't imagine life without you. This past Saturday the plans we had are no more, "Photo-shoot of family" just went like that. It really pains me that you are not here anymore. I wish could close my eyes and realize it was just one bad dream.
Sweetheart, Nakhanu Wanja, as you always called me, I will never hear your voice again. I really wish I could have one more day with you. I can write a book about you sweetheart because you were the best thing that ever happened in my life. I have nothing to complain about, you provided everything I could ask for, we have never lacked was always thank God for the life we shared. I will miss you darling but I will ensure I bring up the girls how you would have. I pray that God will guide me as this is really a bitter pill to swallow. Sweetheart, you were very ambitious, aggressive and nothing would ever stop you from achieving what you had envisioned, this I greatly admired about you. Mine was just to support your efforts.
Tamara and Tendai will always remind me of you and I will always tell them how daddy loved them and the plans he had for them. My tears flow as I write this for you my love. It's not easy but I know you are watching us from above. I really never thought that you would leave me a widow this early but it was God's will. He is in control. Your work here on earth is done however hard it is to accept. I am lonely, I will miss you and you will forever be in my heart. Rest in in peace sweetheart.
Related Topics