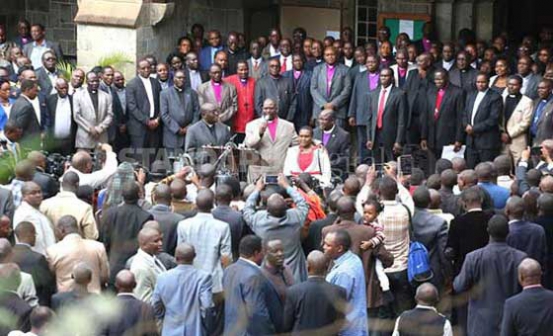 The Nairobian can exclusively reveal the intrigues and backhand machinations that occurred during the recently-concluded elections that elevated Reverend Jackson ole Sapit to the helm of Anglican Church in Kenya.
Sources close to the goings on told The Nairobian that Machiavellian tactics were employed to great effect by a group referred to as 'The Holy Mafia' which began plotting to pick the successor to outgoing Archbishop Eliud Wabukala.
At the centre of its interest was power within the church. "Their desire wasn't to get a person to win the national elections, but to push the bishop of Nairobi to run and win the elections, so that they could have one of their own running the Nairobi Diocese," says one of the sources.
The financial clout of the Nairobi Diocese makes it the most desired posting in the entire country. 'The Holy Mafia' thus gently fronted Bishop Joel Waweru as a likely candidate to lead the Anglican Church of Kenya.
"With Waweru in Nairobi, there is no way the Mafia were going to be let to dip their hands in the cookie jar, so they devised a devious way to get Waweru out, and that was by pushing him to run for the national seat, and leave the coffers wide open. The bishop however was reportedly not interested. The mafia then got delegations to start approaching the bishop with suggestions that he should run," reveals a source privy to the plans of 'The Holy Mafia' who apparently began allocating prime positions in the new administration of the Nairobi Diocese.
The forces behind the 'Holy Mafia' are a canon and an administrator. Contacted, Bishop Waweru dismissed the claims of a mafia, stating that, "I don't know what you mean, but all I can say on the issue is that on May 20, 2016, Jackson ole Sapit was voted the Archbishop. We support him fully and he is our new Bishop. I will support and work with him."