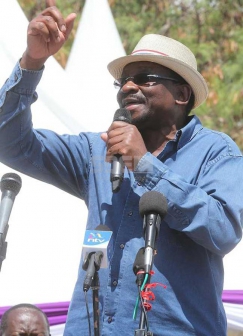 There is a rumour that the agitation against the Independent Electoral and Boundaries Commission (IEBC) is a smokescreen because what Cord wants is a coalition government in 2017...
That is hogwash. In 2008 by the way, ODM wanted a repeat of the presidential elections not nusu mkate. If you are not suffering from amnesia, you will remember that Raila has many times criticised the Kenyan solution of frustrating the genuine results of an election by way of formation of coalition governments.
That is why as a peace envoy in Ivory Coast, he recommended that Ggabo takes an honourable retirement as a statesman instead of sticking to power and pushing for the appointment of Quattara, the current president, as his prime minister.
Precisely, why must IEBC go?
IEBC has irretrievably lost the trust the public had in it. It is bedevilled by serious integrity challenges and accusations, coupled with legitimate questions about its independence and impartiality, lack of capacity and failure to fulfil its mandate to conduct free and fair elections that are transparent, verifiable and administered in a neutral, efficient, accurate and accountable manner.
 Elections must be the culmination of the enjoyment of political rights that ensures that every citizen is registered as a voter and that every vote counts.
But Hassan says he is going nowhere?
Many before have spoken with similar arrogance. But the political graveyard is full. Waiguru, Kimunya, Mumo Matemu and others in the EACC (Ethics and Anti-Corruption Commission) have employed similar rhetoric in vain.
People are dying, getting injured. Is it worth it?
Not a single injury, let alone death, is justifiable in any circumstance, however compelling. The right to life is supreme. Jubilee should take into consideration Obama's statement delivered in Vietnam a few days ago. Nations are more successful when people can freely express themselves, assemble, demonstrate and picket without harassment.
He said that "upholding these rights is not a threat to stability, but actually reinforces stability and is the foundation of progress." But we must realise that Jubilee is the child of the old monolithic State that has hijacked the instruments of a democratic State. To reform itself, Jubilee must commit political suicide or be born again as the scriptures say.
If Cord's beef is with the commissioners, why are counties which host junior staff targeted?
Cord is not just pursuing the removal of the commissioners. We are seeking legal reform of the electoral law and infrastructure involving all the institutions and agencies involved in elections. It is all there in the Okoa Bill.
Why isn't Cord following the right procedure to remove the commissioners?
Cord initiated a referendum and sponsored a petition to Parliament which were rejected. For more than two years, we have asked for dialogue in vain. In democracies, public officers and even presidents resign when the public express justified national outrage. The examples are too many to enumerate here.
But all Cord attempts to force Uhuru to the negotiating table have failed. Why?
The Jubilee administration has despotic and authoritarian trappings. It bears the birthmarks of the old order. In their narrow political universe, there are only winners and losers. That is not how a constitutional democracy is supposed to work. Because of its parochialism and intellectual backwardness, Jubilee uses exclusion, kleptocracy and disorder as instruments of governance and domination.
There is a tragic dearth of the inculcation of the foundational principles and the ideology spelled out in the Constitution of Kenya 2010 on the part of Jubilee.
Seemingly, Coast leaders are not so keen about the protests...
That no longer applies. There have been successful demonstrations in Kwale and Mombasa. Other counties will definitely follow.
What of Ukambani and Bungoma?
Unless you are looking for blood like the Jubilee State apparatus, you cannot have missed the demonstrations that have taken place in Meru, Kitui, Machakos and Mlolongo. Just as we have had similar protests in Kakamega and Bungoma will also join.
Uhuru says Raila Odinga, given his age and stature, shouldn't be on the streets...
Raila leads from the front, just like Jaramogi Oginga Odinga, Matiba, Muliro, Shikuku and Njoya did. Of course with them were the Young Turks. Archbishop Tutu was in the streets not too many years ago and his political legacy of protest, liberation theology and prophetic mission lives on.
Political rights enshrined in Articles 37 and 38 of the Constitution have no age limitations. There are also demonstrations of another kind. French President Hollande led other leaders in solidarity marches on the streets of Paris against terrorism. Demonstrations and protests are at times the highest forms of the right to freedom of expression.
Is it really prudent to expose Raila like that? It could be really bad if something happened to him...
We are aware of the dangers. It is permanent and omnipresent. We have to be vigilant, not just on the streets, but everywhere, when it comes to Raila's security. Robert Ouko was abducted from the security of his home and brutally killed. Tom Mboya was assassinated in broad daylight on the doorstep of his favourite chemist shop in Nairobi.
Pio Gama Pinto, JM Kariuki and Odhiambo Mbai, were not murdered on the streets. We have to overcome fear. But self-preservation is a function of political struggles. Martyrdom is not sought in the political war field. We seek the victory of our ideas and movement.
What happened to Kalausi (a group of Luo leaders who were fighting Raila)?
Kalausi is a small whirlwind or twister. It disappears almost as soon as it reaches a climax or its apogee. It is not a hurricane, tornado or typhoon. Kalausi is gone with the wind.
Why is there voter apathy in Luo Nyanza?
There is discrimination in the issuance of identity cards and the registration of voters. But apathy also develops when people lose confidence in systems like the election machinery in a country. Elections are serious business.
Elections are the ultimate exercise of sovereign power. However small a people or community are or inconsequential, political domination or hegemony cannot be used to make them feel excluded, abandoned or rejected. We cannot build a nation–State like that.