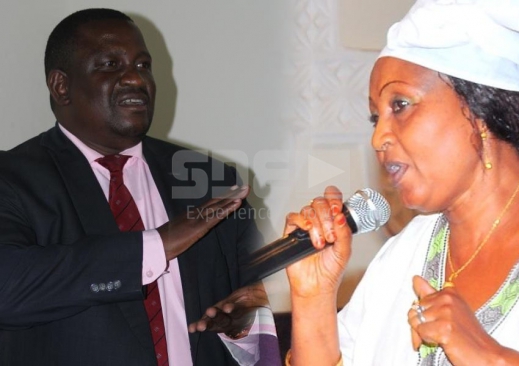 Kwale women representative Zainab Chidzuga has declared war against Kwale Governor Salim Mvurya for what she says, tendencies of hijacking her meeting.
On her face book page which she confirmed that she stands by it, Chidzuga wrote the following:
"Aslm alkm ndungu wenzangu.kama viongozi wenye busara nilazima tue na ukweli na ufahamu.
jumamosi nilikua na mchango wa villabu vya mpira hapo shamu na mimi ndio nilie panga mkutano huo.mimi na mca boga ndio tulipanga huo mkutano huwo sasa wengine wajipatia umaarufu naona.harembe ilikua nimeipanga mimi wala sio governor.sinashida ya mtu kuja kuchangia lakini usemi wengine ni wa upotevu. na kama governor ameona sasa yuko tayari tuaribiane majina sawa.Wakwale ndio waamuzi.asanteni."
Translated as:
"Greetings people, as sober minded leaders we must tell each other the truth. I am the one who organized the fundraiser that took place on Saturday with MCA Boga and not the Governor. I don't have a problem with people contributing but if the Governor is ready for us to defame each other then its okay." She wrote.
On Saturday last week Chidzuga who was to be the chief guest for Shamu football club fundraiser was surprised when she found out that there was no seat reserved for her.
Instead her position was occupied by Kwale Governor Salim Mvurya who was also the chief guest deputized by Fatuma Achani his deputy Governor.
The MP who was forced to seat at a next tent with members of public could not hide her anger as she told the Governor to the eye for frustrating her.
"Excellency the Governor I have really respected you and with those who have supported you I think I am number one. However what your office has shown me is unwarranted," said Chidzuga when she was called by area MP Suleiman Dori to speak.
She told the Governor how she respects and supported him before, though this was not reciprocal.
The MP complained to the Governor that his office had belittled her and always hijacking her rallies.
"For now I will not speak anything and if you want me to seat where I have been sitting I will do. Mheshimiwa (Boga) come and take my contribution," she added.
After speaking for a minute she called the area MCA Omar Boga to give her contribution of Sh150, 000, 17 sets of football jerseys and several trophies.
She then in a huff with a section of her supporters walked out of the meeting as the Governor rose to speak, leaving some leaders perplexed.
When Mvurya stood to speak, said he did not expect any political drama because the main agenda for the meeting was contribution.
He noted that he attended the funds drive as a duly elected leader of county Government and nothing like hijacking.
"Youths of Shamu wanted their leaders to fund raise for them and my coming should not be taken as political drama," said the Governor.
The public could only sympathize with the situation as women stood in solidarity with the woman rep by shouting her name.
Mvurya stated that 2017 is still far and called on those who had already started campaigning to hold their horses.
He at the same time assured that both with his deputy Fatuma Achani will defend their seats.
The Governor noted that there were rumors spreading alluding that the deputy will vie as the women rep.
"I want to make it very clear that will defend our seats and not how some people have been spreading rumors that she will vie for women rep and everyone should concentrate on their work," he added.
Area MCA Omar Boga who was the convener of the function, complained that the Governor's PA had told him that the Governor will not be available only to confirm at the last minute.
At this time Boga had already asked Chidzuga who had confirmed attendance to be the guest of honor.
ODM Party politics also played out with Boga who is vying for the Msambweni constituency seat currently held by Suleiman Dori, flexing his muscle and accusing the current MP of preparing to rig him out.
"Am the ODM secretary general and am ready from today to tomorrow and I cannot declare if I don't believe in myself, I am ready for any war of election. I joined ODM because of its policy while some are spreading rumors that I joined Jubilee. And those who are saying that they already have a certificate I want to know how they will rig," said Boga.
Boga is the Kwale County ODM Secretary General while Dori is the fourth national organizing secretary.
Dori however told Boga to prepare for rough game as there was no fair play in politics.
"ODM has open politics and we welcome everyone. Let us not have fear that this and this will happen and if you are a player you should know that there is time for rough game and fair play. If you wait for fair player know that there is time for rough," said Dori who spoke after Boga.