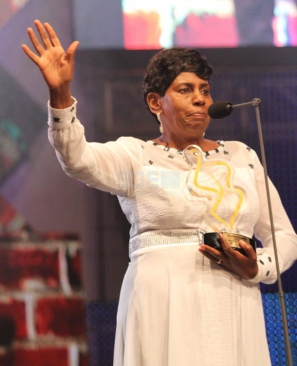 From being condemned by her father for following her dream to being turned away by producers, gospel musician Jemimah Thiong'o has been through it all. The mother of three who is now engaged in prison ministry spoke to MWAURA SAMORA about her relationship with God, family and gospel music
When did you get saved?
I recall vividly that it was August 20, 1987. The revelation came through Pastor Peter Gachara, now the Bishop of Furaha Worship Centre in Kiambu, who read a verse from Matthew 8:12. This was at my niece's funeral arrangement meeting. Pastor Gachara challenged me to receive Christ even though at that time, I was serving in church.
He asked me to lead a Kikuyu hymn Mwathani Aranjierite and summoned me to the alter. But I didn't respond as I believed I was born again. I later gave my life to Jesus in the privacy of my bedroom.
Having recorded almost 40 songs, How has that journey been like?
My father was against my musical career. He rebuked me and even attributed it to my deteriorating grades in class. I wish he lived long enough to see God's plans in my worship ministry. Besides that, I was discouraged by producers, friends and relatives who didn't believe in me. I thank God for my husband and children who stood by me.
Was recording your first song easy? 
Producer Robert 'R-Kay' Kamanzi recorded my first music cassette even though I didn't have any money to pay him. I sold most of the cassettes to the ACK (Anglican Church of Kenya) fraternity. This was my turning point. I didn't have enough money to pay the producer, but God favoured that album. He agreed to complete and follow it up. It sold many copies countrywide and even outside Kenya. 
How was it living in the village after your husband was transferred from the city?
Living in the village was not easy, but through God's grace, I managed and it changed my life and moulded my ministry. I founded ACK Kagwe together with two other families and ministered there for many years. It was in the wilderness that God moulded me to be who I am.
What inspired you to minister in prisons?
I got involved with prison ministry after a lady who helped me with farm work allegedly killed her child and was jailed. I used to  visit her in prison. I sympathised with the prisoners who lived in deplorable conditions, since prisons then were filthy. That's when I was moved to start ministering to the inmates.
Of all your songs, which one is your favourite?
Mwenye Baraka, popularly known as Akisema Atakubariki, will always the song that invokes fond memories. It is a prophetic song that was inspired by a very personal experience. I live all my songs because there's a storyline behind every song.
How do you remain humble despite your success?
Humility is a Godly virtue, and money only brings out who you really are. The word of God is the guide for every Christian, musicians included.
What's your take on modern day gospel videos and music? 
As a mother, I believe that we all have played part in what some might call materialism in the videos. We should stop focusing on what is bad and shine our light on what is good. Why do we keep complaining, yet we do nothing to change the situation? We must do something to inspire younger musicians. Change begins with me and you!
Have you come to terms with the death of your siblings in a road accident?
It was a shocking incident and I don't really like talking about it. I was making a comeback after being sick for long, but God gave me the grace and the works of the enemy shall never prevail when you keep trusting God. It's by his grace that I'm now back.