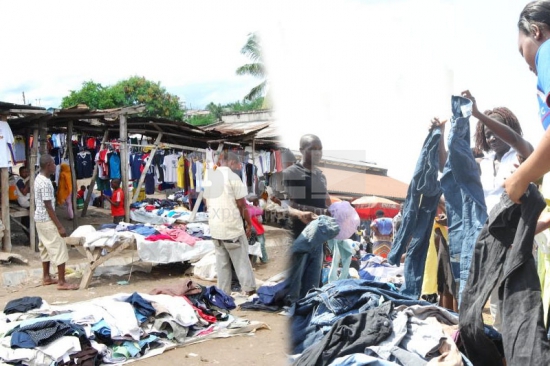 Former Nyaribari Masaba Member of Parliament Hezron Manduku once told Parliament that he was thankful that mitumba clothes had saved his colleagues from nakedness.
The MP claimed that things were so thick that fellow legislators resorted to second-hand clothes that people shunned, as they were associated with dead wazungu.
Before they were christened mitumba, locals called them Kafa Ulaya (dead in Europe) which was a way to denote they were unwanted and for the underprivileged. Some called them Marehemu George (the late George), meaning the clothes once belonged to some dead jungu called George.
"Members of Parliament are wearing mitumba shirts. They are not buying shirts from the shops, not because the mitumba are better, but because they cannot afford to buy shirts from the shops," Manduku claimed.
It is widely claimed that if the liberalisation of the trade in the late 1980s did not birth the multi-billion mitumba, industry Kenyans would be walking 'naked'? But could this be farfetched?
Kennedy Malombe, a mitumba trader in Gikomba, says the fact that mitumba are pocket-friendly and of quality material, makes them the clothing items of choice for the average Kenyan.
"We have changed from the days when mitumba wearers were despised. Nowadays, we have quality clothes and shoes from Europe and America that can compete with expensive new products," he explains.
Arguably, the industry has become so popular that mitumba are today viewed as Kenya's main mode of dressing. About two-thirds of the population (over 27 million people) are reportedly beneficiaries of these second-hand clothes from Asia, Europe and America. Mitumba have become part of Kenyans' wardrobes.
XN Iraki, a senior business lecturer at the University of Nairobi, disputes this view and argues that sanctioning the importation of mitumba was a big mistake.
"The move wiped out lots of jobs along the supply chain. Those days, we bought quality, locally produced clothes and shoes. But all that is gone. Some people may argue that because of poverty, most people were unable to afford them. However, that was not an excuse," Iraki told The Nairobian.
Today in Sub-Saharan Africa, Kenya leads in the importation of mitumba. Around 1998, 50,000 tonnes of mitumba were getting imported annually, a figure that has today risen to 100,000 tonnes.
Dozens of individual importers ship in used garb and shoes, which are sold at throw-away prices. The supply chain runs down to retailers in big markets like Gikomba, Toi and others across the country where some items go for as little as Sh10.
Economics analyst, James Shikwati, says the popularity of mitumba is a sign the local textile and leather industries have failed to satisfy the market with affordable and quality clothes and shoes.
"Back in the 1980s, many people walked barefoot with torn or patched clothes. You can see this from family pictures taken at the time. Few could afford the new items. The industry was not for the poor mwananchi, so mitumba stepped in to fill the gap," says Shikwati.
Stephen Kioko, a trader at Toi market says in some cases, the used clothes are of better quality compared to new ones in high-end stores.
Lewis Otieno agrees: "We can sell a used shirt for Sh1,000 but you can't compare it with a new one going for Sh1,800 in a supermarket."
Thousands of these traders source the items from Gikomba, packed in bales that go for between Sh12,000 and over Sh20,000 and then retailed in stalls and open markets.
"You can never go wrong with shipments from Italy, America and Europe. You are assured of quality, decent products that are still in good condition and which fetch good returns. Asian clothes are not preferred by many," says John Mwangi who hawks mitumba at Gikomba market.
The traders say the presence of new, but sub-standard products, especially shoes, is pushing many discerning shoppers to mitumba, believed to be of better quality.
The Kenya Leather Development Council (KLDC) chief executive officer Charles Ndung'u admits that  sub-standard and used items have hampered the growth of the local industry, besides turning Kenya into what he terms a dumping ground.
"About 30 to 40 per cent of the items are waste. We should ask whether that used shoe going for Sh40 is worth wearing, or are we are just concerned with affordability" Ndung'u challenged.