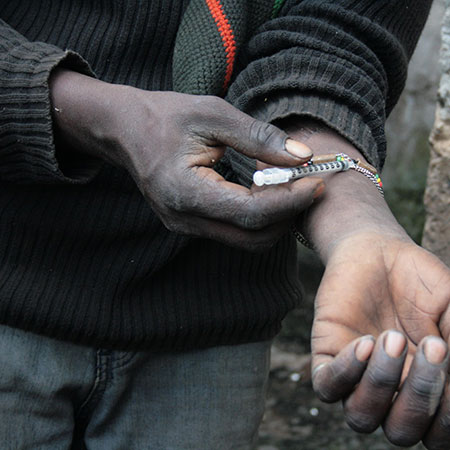 [email protected]
To inject heroin and cocaine into your body, you need a vein. But some drug addicts in Nairobi are in a dilemma having 'exhausted' all the veins on their hands.
And that is where genitals and neck veins have come in handy. Female users besides going for the neck, go for thighs.
The results of these addictions have been disastrous. In February, an addict in his early 30's died in Bahati estate, Nairobi.
Residents said his penis' veins had collapsed before he resorted to injecting himself through veins around his heels, opening a wound in his leg that soon started to rot.
Drug addiction in Nairobi is rampant in Eastleigh, Pangani and the slums of Majengo and Mathare Valley. Old estates in Eastlands like Jerusalem and Bahati haven't been spared either.
Peter, a monosyllabically named addict in Eastleigh told The Nairobian that reverting to his penis as the vein of the last resort has been a lot easier given that the phallus is a rather hidden and 'permanent vein'.
"It is true that we use the penis for purposes of peeing and taking drugs. We don't care much that others use it for sex."
Female drug users who care about what remains of their looks, prefer the thighs, the unexposed parts and the jugular vein 'when things are bad.'
"Unlike us, their genitals disadvantage them when it comes to using them for consuming it (drugs)," said Peter.
The monosyllabically named Peter and partner 'Jose' have been into hard drugs for over five years.
Jose admits that injecting through the genitals is the latest fad for addicts.
The heroin and cheap, impure cocaine, are sourced from Eastleigh, coded Pakistan and Mathare, coded Nigeria, and for as low as Sh100.
The victims admit the drugs have exceedingly wrecked their lives, but they care less. "I only care about being 'high' and not those sex things you talk about. This is better," drooled Jose.
He even dared this writer to buy him some if he wanted to witness a penile injection, which for some users can happen 20 times a day when they're in the money.
Scholastica Muthoni, a psychologist who interacted with some druggies while carrying out an academic research on narcotics abuse says the harm is aggravated by use of more than one drug.
"Narcotics such as heroin ruin the central nervous system, slowing the vital functions such as sex," Muthoni said.
An addiction counselor with an NGO that has outreach programmes in Eastlands told The Nairobian that continued injections turn the sexual organs into a quasi-functional state.
"These are people who care less about sex, and you find they have no such feelings… and the genitals are full of wounds," she said of the despicable looking addicts who are brought to her.
Most are treated at the local dispensaries and the major hospitals, only to revert to penile drugs use when their wounds heal.
Unlike neck veins, the genitals are hard to miss– even the highly intoxicated can inject themselves.
"Very few are able or have the courage to inject themselves through the neck on their own. Moreover it is more dangerous," said Muthoni.
The addicts admitted they stroke to harden for a better shot into the vein, before the penile 'horse power' dies soon after.
"This is easy. I can even do it when I am relaxing with friends in the open. When the urge comes and we have the substance, little can stop us from doing it," said 'Jose.'
To avoid the police, they prefer going for the dose in 'safer' places in Mathare and Eastleigh. Here they learn how to inject and share when they are short of money.
National Authority for the Campaign against Alcohol and Drug Abuse (Nacada) boss John Mututho told The Nairobian the trend has been witnessed in Mombasa, and seems to have assumed a devastating escalation.
"Consuming narcotics through the genitals is seriously horrifying. It is an issue we want to have treated. We just need a massive rehabilitation, and this will happen soon when Parliament okays a fund in the pipeline," said Mututho, adding that Nacada will embark on a demand and supply reduction approach to stem down the addiction to drugs.
Related Topics