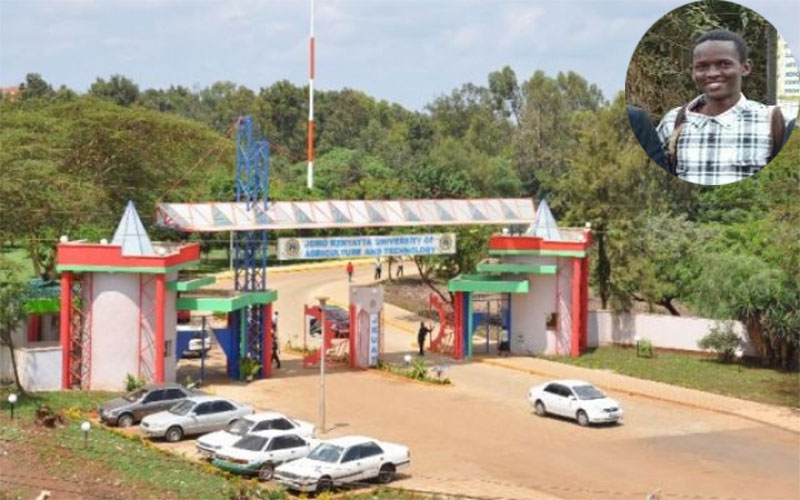 A Jomo Kenyatta University of Agriculture and Technology (JKUAT) student committed suicide in Juja this week.
Titus Ndirangu Mwai's body was found hanging in his room in Juja near the university.
Ndirangu, a second-year student at Jomo Kenyatta University of Agriculture and Technology (JKUAT) went missing on Monday before his body was found hanging in his house near the university's gate D.
Apart from poor performance, Ndirangu who mostly kept to himself, reportedly confessed to a local pastor about his plans to end his life over squabbles between his parents.
According Kenyatta University Students Association (JKUSA) president Ibrahim Boru, Ndirangu was a quiet student with few friends.
"He lived alone near gate D at Kiongo Street, and that is where he was found," Boru told The Nairobian.
Before his death, the student who was pursuing a degree in agribusiness economics, is said to have confessed to the pastor that he was stressed and was unable to perform well as a result of the differences between his parents back at home.
Ndirangu is said to have told his pastor to inform his parents that he will take his life over what he described as differences between his parents.
"The pastor told us that he talked of his intentions to end his life, claiming he was stressed with exams and fights at home," a colleague told The Nairobian.
Boru advised comrades not to take their lives, but rather share their problems so that a solution can be found before it becomes too late.
"It is sad that JKUAT has been in the news over deaths of comrades. We must stop this," he said.
He said the university has hired counsellors to deal with social problems and other issues affecting students in the institution to guide students on the right path. He encouraged students to visit the counselling offices for help.
The deceased's parents could not be reached for comment as they had not arrived at JKUAT.
Police are investigating what could have led the student to take his life, but students have said it could be his bad grades and stress at home.
No suicide note was found in his room.
The body has been taken to General Kago Mortuary in Thika town.
Cases of students committing suicide have been on the rise in universities, with many cases linked to exam failures and relationships.
Would you like to get published on Standard Media websites? You can now email us breaking news, story ideas, human interest articles or interesting videos on: [email protected]