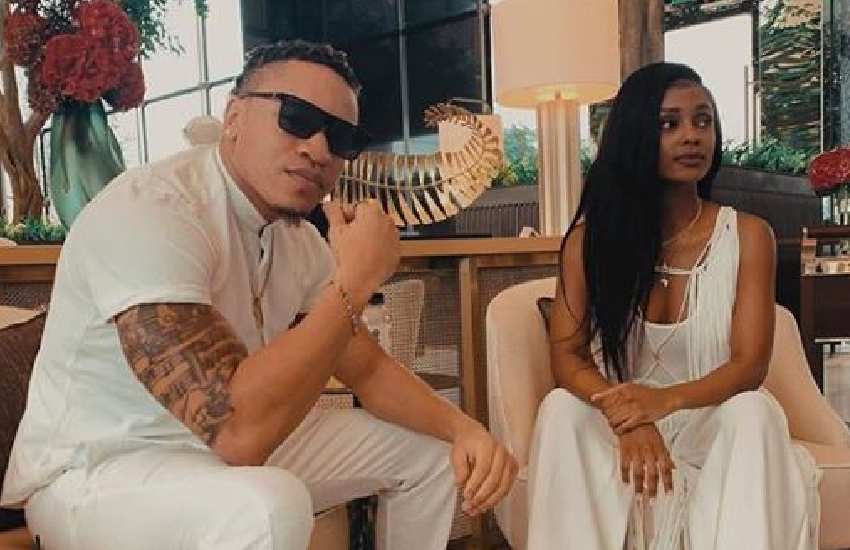 Miss Tanzania 2006 Wema Sepetu is pleading with her compatriot Venessa Mdee alias Vee Money to walk down the aisle with Nigerian-American actor Olurotimi 'Rotimi' Akinosho.
In a birthday message to Vee Money, Sepetu confessed that the Nobody but Me hitmaker has been serving her couple goals with Rotimi and cutely represent her favourite couple.
According to Sepetu, the two are meant for each other and advised Vee Money to take the relationship to the next level and say 'I do' while at the same time wishing the lovebirds the best of wishes.
"Talk about my favourite couple... Kadada nakokapenda kalizaliwa siku ya jana... Na nisingeweza acha tu siku yake ipite hivihivi bila hata kumpost... No way...! Been so busy mpaka imenipita jamani...
"Happy Bday to you sweetness... Mungu amekubariki mpenzi na azidi kukubariki... Nawaombea muoane na kipenzi cha moyo wako... You guys are too cute for words... Bless you abundantly babe... Kisses," she posted.
Read Also: Doctors tell Wema Sepetu she's ready to have children
Mdee,31, two months ago affirmed that her relationship with Rotimi a year on after splitting with singer Juma Jux was strong and hinted to a wedding.
Flanked by the Power actor, Mdee, in a widely shared video that gave a rare insight into their love life, revelled at how happy and settled she is with Rotimi.
"Honestly in have been in the music industry for 13 years I have never taken a break, So I finally found some time for me, to do what Vee likes, to do what Vee wants to do, to chill, I found Love, beautiful Love and I'm so happy, I'm enjoying my life. So I just wanna take time to enjoy life," she said.
"I now have time to work on my podcast and thank you so much for supporting my season one. Season two is going to be even greater, I'm going to answer all your questions because there has been a lot of concerns, when is your next song coming out, all that is gonna be answered. I wanna thank you for your love and continued support."
Happiness in a relationship was crucial for the first-ever Tanzanian MTV VJ as she explained to Millard Ayo on why she settled on the actor.
"It took me two days…I said, 'This is my husband, I'm in love with him. I love him'," said Vee Money. "You know when you are in love with somebody. Yes, I'm in love with him."
Around that time, Rotimi on his part secured a luxurious house as a birthday gift soon after a trip to Vee Money's home town.
Read Also: Wema Sepetu reveals she contracted a disease while behind bars
A move seen by some insiders as the actor's plans to secure his future, perhaps, with the songbird.
"As a Bday gift to myself. I bought a penthouse in one of the most prime locations in Lagos with no mortgage (Ikoyi) full-on paid for. It's important we know the value of real estate and legacy money," he wrote.