National Oil Corporation to dual list on Nairobi and London Stock Exchanges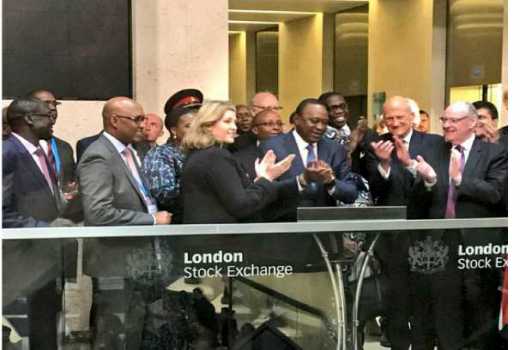 NAIROBI, KENYA: President Uhuru Kenyatta on Tuesday visited London Stock Exchange in his United Kingdom tour which began yesterday (Monday).
According to media reports the President confirmed National Oil Corporation to dual list on both Nairobi and London Stock Exchange.
The president is expected to use his visit to United Kingdom to share areas of investment opportunities as envisioned in the country's Big Four Agenda.
The president travelled to the United Kingdom on Monday to attend the Commonwealth Heads of Government meeting (CHOGM); a biennial meeting of leaders from 53 countries that make up the Commonwealth of Nations.
Besides the meeting, trade and diplomacy, security and regional development are also part of Uhuru's agenda.
During his address at the Chatham House, the President will give details on Kenya's efforts in achieving inclusive economic growth and the positive role the country plays in supporting regional peace among other global issues from Pan-African perspective.
Also on the agenda for the President is building momentum for the Blue Economy global conference Kenya will host later in the year.
The blue economy is part of the themes of the CHOGM summit with discussions set to take place on the new Commonwealth Blue Charter on ocean governance.