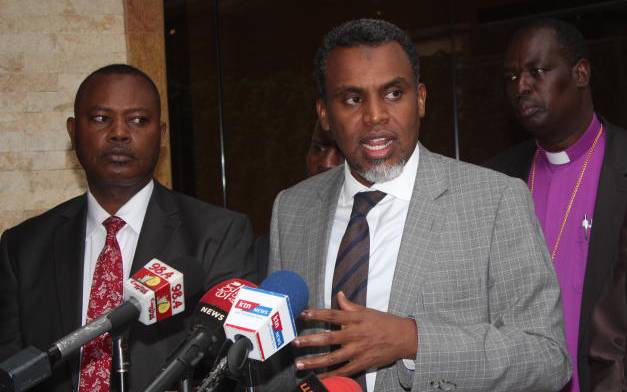 Nairobi
US Attorney General extended the invitation as the crackdown on dirty money intensified.
The Director of Public Prosecutions (DPP) Noordin Haji leaves for the US this weekend as Kenya moves to enlist the Trump administration's help to fight graft and money laundering. The DPP and the Director of Criminal Investigations (DCI) George Kinoti visit the US days after the launch of a major crackdown on dirty money. The visit comes after similar trips to the UK and Jersey Island, as the two officials seek broad international assistance to smash corrupt networks and repatriate stolen cash stashed abroad.
Three-day visit
SEE ALSO: DCI ordered to return Rashid Echesa guns
During the three-day visit, Haji and Kinoti are expected to hold a series of meetings with the Attorney General (AG) William Barr and Federal Bureau of Investigations (FBI) director, Christopher Wray. Officials aware of the trip said corruption, counter-terrorism, organised crime, drug trafficking, human trafficking, and intelligence sharing would be the main focus. A number of prosecutors and detectives will also accompany the DPP and DCI as well as officials from the Asset Recovery Agency. Haji said the US AG's office had invited them for the trip to share many issues that affect both countries. "We will be discussing many issues including graft. You know the FBI is under AG's office in the US and we are scheduled to meet top detectives there to share various issues," he said.
SEE ALSO: DCI arrest man behind brutal killing of woman whose body parts were found in Umoja
Last year, officials from the FBI met Haji in Nairobi and discussed areas of collaboration. In a sign of growing collaboration between the two countries, Kenya extradited the Akasha brothers Baktash and Ibrahim, along with Gulam Hussein, a Pakistani national and Vijaygiri Goswami, an Indian businessman to the US in 2017. The four are facing drug trafficking-related charges and were arrested in Mombasa in a US-led sting operation. The US says the Akasha organisation provided 99kg of heroin and two kilograms of methamphetamine to Drug Enforcement Administration informants posing as drug traffickers. As part of a deal made in October with US prosecutors, each of the two Akasha brothers is facing a prison term that could range from 10 years to life.
SEE ALSO: Officer to be charged with murder of 13-year-old Yassin Moyo
The brothers agreed, then, to plead guilty to seven criminal charges, including bribing unnamed Kenyan officials. The terms of the agreement also indicate that the Akashas may each be fined up to $10 million (Sh1 billion) and be required to forfeit all the money obtained through their confessed drug dealings.
Jersey Island
Haji has also led a delegation to UK and the Jersey Island accompanied by Ethics and Anti-Corruption Commission boss Twalib Mbarak. Also in the trip was the Director of Immigration Services Alex Muteshi and Anti-Terror Police Unit officials.
SEE ALSO: How criminals are using online learning to lure your children for exploitation
During the trip, the Kenyan delegation met officials from National Crime Agency, Metropolitan Police Counter Terrorism Command, Crown Prosecution Service and the Foreign Commonwealth Office to discuss, among other matters, how to repatriate stolen cash. According to Haji, Kenya also plans to use the UK law to repatriate stolen money. "Kenya wants to exploit UK's Unexplained Wealth legislation to recover the money. The money runs into billions (of shillings) and we hope we will be successful. The legislation offers an effective means of recouping illegitimate funds," he said. In March, 2017, the governments of Jersey and Kenya signed an agreement for the return of more than Sh380 million in assets recovered from former Finance Minister Chris Okemo and former Kenya Power and Lighting Company boss Samuel Gichuru.