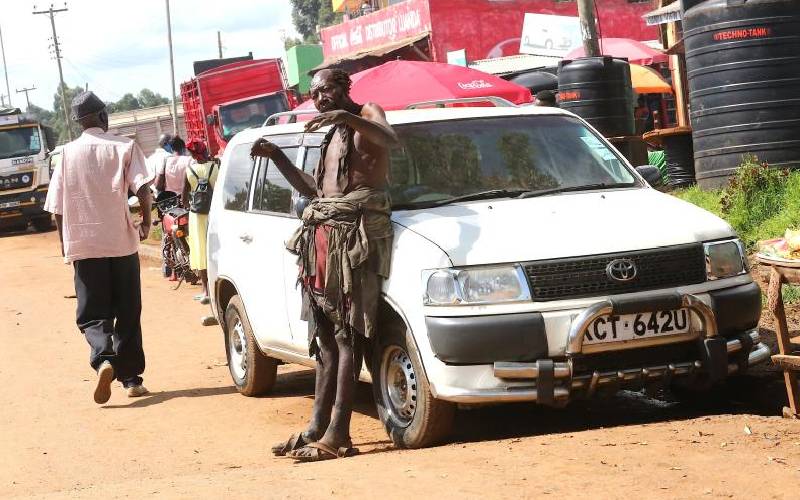 It's at 6 pm on Monday and dusk is falling. Traders at Luanda market, in Vihiga County are closing up after a busy day.
To the traders, it has been a bad day because a heavy downpour disrupted their business.
Mondays and Thursdays are normally market days and thousands of people from the neighbouring counties of Kisumu, Siaya, Busia and even Kakamega come to the market to buy merchandise.
Around Big Ben plaza at the centre of the town, a group of youth aged between 14 and 25 years is huddled together.
Most of them are barefooted. These are not your usual vibrant youth engaged in banter about the latest hit songs, football, politics, or relationships.
They appear listless. Most of them have bloodshot eyes and cracked dry lips. Some are openly smoking bhang, while others occasionally engage each other in a fistfight.
A stone's throw away, another group is injecting themselves in the arms and drinking illicit alcohol in plastic bottles.
"That plastic bottle contains a drink that causes epileptic-like symptoms minutes after consuming it but they recover after 10 minutes. When they wake up, they are normally in a drunken stupor and cannot recognise those close to them," said Richie Litaba, a local.
He added: "The sale of questionable liquor is thriving in our community and if action is not taken, we stand the risk of losing an entire generation to drugs and substance abuse."
According to Mr Litaba, the youth mainly those in secondary and in the university and other tertiary institutions, are the ones being used to peddle the drugs.
"My nephew is a victim of this trade; I had a candid talk with him and he gave me an insight. The drugs den is opposite a local commercial bank and the stuff they take is known as 'Shash'. I suspect it could be 'Hashish' and the lowest goes at Sh2,500," said Litaba.
He added: "He had even started selling household items to feed the addiction."
Litaba's nephew's story is just the tip of the iceberg. Cases of secondary and university students becoming addicts and drug peddlers are the order of the day.
In 2018, 10 young men linked to the sale of drugs in Luanda town died under unclear circumstances. Locals say they had been recruited into an intricate web of drug peddling and when the deal went sour, they were extinguished.
For the last one month, The Standard team pitched tent in Luanda town, business was brisk and a lot of money changed hands. Those hawking the illicit products are largely youths aged between 14 and 25 years.
Once initiated into the business, they remain at the mercy of their masters, sometimes with dire consequences. From clubs, backstreets, car parks, school playgrounds, and other social places, one needs as little as Sh40 to get high on bhang, cocaine, and liquor.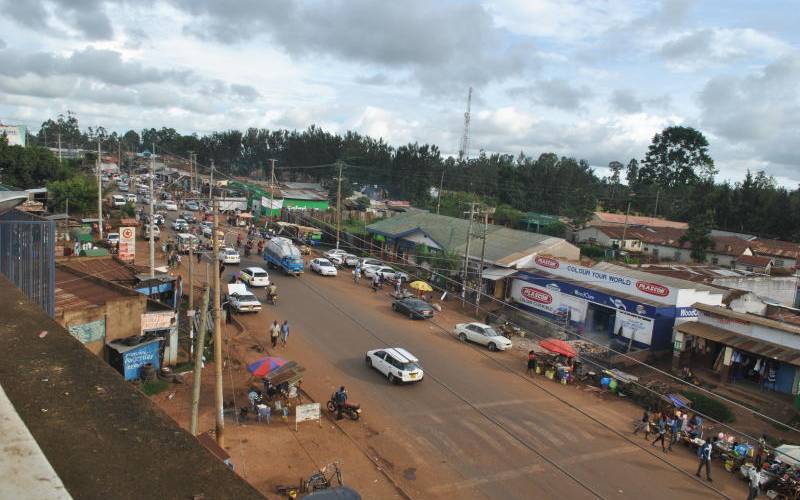 The dangers are real but the police, who are supposed to help stamp out the menace of drugs and substance abuse, are being accused of doing little to solve the problem.
Luanda Sub County police boss David Ndurangu dismissed the narrative saying they have done their best to flush out cartels dealing with drugs in the region.
"Yesterday we arrested the owners of the said dens, Mevis Angawa and Jenifer Imbukwa, and a recovered 60 litres of chang'aa and 15 litres of busaa. We also recovered 50 rolls of bang. The two were arraigned at Vihiga law courts," said Ndurangu told The Standard.
However, Joseck Ang'ana, a local community leader, disagrees with the Luanda police boss over his assertions that they have flushed out the drug dealers and termed his sentiments as a pure public relations exercise.
"They will tell you they have arrested someone but when he or she is arraigned, what's presented to the court as the exhibit is not what they nabbed the suspect with. In the evening, the police themselves return the exhibits to the suspect at a fee," Ang'ana claimed.
According to Ang'ana, some police officers know the drug dealers well and protect them to the extent of escorting them while transporting.
He claimed they use public transport when sneaking the contraband into the country in fish baskets, omena sacks and mitumba clothes.
A survey by the National Authority for the Campaign Against Alcohol and Drug Abuse in 2017 shows that 18.2 per cent (4.91million) of Kenyans aged 15 – 65 years are using at least one drug or substance.