Village boy who went to big city barefoot and became IT guru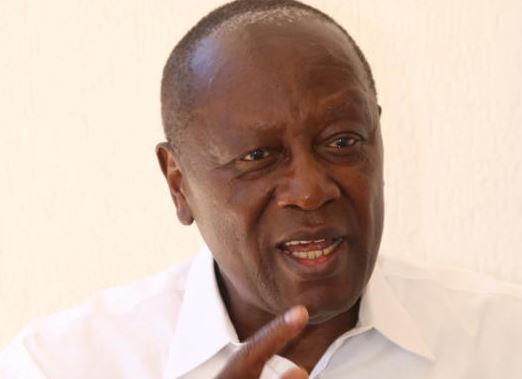 James Rege (pictured) was in his home office in the leafy suburbs of Karen estate when his phone alerted him of our presence at the gate.
We found him sitting on an executive office chair, the latest Apple iMac desktop in front of him. Next to the wireless mouse was a carving that could easily pass for a cup he had accidentally tipped over, coffee overflowing on the ornate mahogany table.
The impression of disorder this created, was at odds with the primness of the office and its owner. But then, as Eng Rege himself would later translate for us, the exotic writing on the sculpture: "Accidents happen."
He wore a white unbuttoned shirt which he matched with a black pair of khaki trouser and black sports shoes.
On the walls were shelves full of books on information, communications and technology (ICT) including a Java Cookbook for programmers.
There was also a photo album, a rich memorabilia for the various telecom occasions around Africa. It included a photograph with the late Tanzania President Benjamin Mkapa as they launched Vodacom Tanzania, which Rege started from scratch in January 2000.
Earlier, he had swiped his phone and a video of our car at the gate flashed on. After a careful look at its occupants, he sent a message for the gate to be opened.
"In my house, I have installed Internet -of -Things," says the engineer, co-founder of Capital Airtime, a service provider for Safaricom, with Nairobi Securities Exchange Chairman Kiprono Kittony.
Internet-of-Things (I-o-T) is a system of computing devices embedded in everyday objects, enabling them to send and receive data.
Without I-o-T, the security guard at Rege's gate would have had to use a peephole and ask us to identify ourselves and whether we had an appointment.
The lighting system in the expansive home is also controlled from anywhere using an app on his phone. The gigantic window curtains are also drawn using the same app.
Yet, I-o-T, which started in the late 1990s, came much after Rege's career in telecoms was in its twilight.
The current chairman of Kenya Electricity Transmission Company (Ketraco), now 73, has continually re-invented himself, ensuring that his grasp of the latest technology is as firm as that of the microprocessors he used to build in the 1980s in Washington DC, US.
The two-term Karachuonyo MP worked for different telecommunication companies in different parts of the world, mostly on satellite communications: Siemens in Germany, International Telecommunications Satellite Organisation (Intelsat) in the US and Vodacom Tanzania.
Silicon Savannah
He played a major role in the introduction of satellite technology and the growth of telecoms in East Africa as an executive in various firms.
Should Nairobi earn its stripes as Africa's Silicon Savannah, Rege's name feature somewhere in the annals of history.
In the one year that he served as Kenya's ICT Permanent Secretary under former President Mwai Kibaki, he helped craft policies that have served as a blueprint of the sector's development.
In 1999, he set up Vodacom Tanzania and helped it rise to the pinnacle of the country's telecommunications sector, setting the stage for the exponential rise of Safaricom into East Africa's most profitable company. By then, Safaricom was still a small unit in Telkom Kenya.
Yet sometime in the early 1960s, as the clamour for independence rose to a crescendo, Rege was a simple village boy listlessly herding cows in the dry lands of Karachuonyo on the southern shores of Winam Gulf.
In 1966, he would journey to Nairobi for his further studies, not yet sure of his future.
"I came to Nairobi barefoot with a pair of shorts," Rege remembers. He was to join Mang'u High School for his O-Levels.
It was his brother-in-law, the late Odero Jowi - who at the time was the Minister for Labour having taken over from the assassinated Tom Mboya - who picked up the 17-year-old Rege.
"I borrowed shoes when I went for the interview in Mang'u School," he recalls.
His father, however, overruled the idea of him joining Mang'u and instead asked him to join Mombasa Technical Institute.
A year after being at Mombasa Technical, he got a full scholarship "...and I never paid school fees again in my life."
He studied electrical engineering at the institute and then went into lecturing about telecoms, which he had also studied.
But it was a visit to an Italian rocket launching pad in Malindi that piqued his interest in telecoms.
So by 1974, after returning from Germany where he worked with Siemens, Rege pursued an undergraduate degree in electronics in the US. It was while there that he also started building computers, perhaps the first Kenyan to do that.
He brought some of those computers, mostly just microprocessors without screens, to Kenya.
At Intelsat, some of his colleagues were lecturers at George Washington University. "So in the evening we would just move to another room to study for masters degree," he says.
Just as he frequently refreshes his mind by keeping abreast of the latest technology, Rege tries to keep his body fit. He has a gym at his home, a race bike and a mountain bike.
"My life has been about telecoms, and nothing else," he says as he gleans through his photo album. There is one of a younger him, looking at the camera with an animated smile, but his hands remain stuck on some electronic gadgets.
"Here I was making modems," he tells us. That was in the 1980s, way before the modem bug caught up in Kenya.
In a way, Rege has lived through a lot of momentous developments, sowing in him a deeper understanding of ICT.
By the time commercial Internet service providers (ISPs) began to emerge in late 1980s, he had already risen to a department manager for Dataronix, a technology company in Virginia, US.
And when he started working as an electrical technician between his engineering classes in 1974 for West Virginia University, the late Steve Jobs, the co-founder of Apple, was also just starting out having dropped out of college and taken up a job at Atari Corporation as a video game designer.
Ten years later, while working in Washington as a telecom engineering manager for Intelsat, a communications satellite services provider whose 146 country membership mirrors that of the World Bank, he had his first brush with the undersea cable.
By 1984, Intelsat were the only telecommunications provider for the whole world. Each of the member countries had a satellite earth station. Kenya's earth station was in Longonot, and it communicated to Extelcoms House, Nairobi.
And then the undersea cable started to appear, moving across the Atlantic Ocean from the US to London and Europe. This frightened the workers at Intelsat. "We thought we were losing business because they now started taking traffic away from satellite. But later on we realised that we were complementary. Because when they were down, we would carry their traffic. And vice-versa," says Rege.
Nonetheless, fibre optic trumped satellite communications. The problem, says Rege, was a delay of satellite communications of 250 milliseconds. This delay was satellite's Achilles' heel.
Between 1996 and 1999, he worked with Iridium Africa Satellite Communications in London and South Africa. And between 1993 and 1996, he helped build the African Satellite in Cote Divoire and France.
Rege did not wane with satellite technology. Not only would he re-invent himself, working for telecommunications companies that had already adopted undersea cable, he would also be instrumental in bringing the fibre optic cable to Kenya when he became ICT Permanent Secretary in 2004.
Fibre optic cables are simply "pipes" that can carry telephone calls and emails around the world in a seventh of a second. As they have grown in Kenya, so has Internet subscription.
In 2009, the government implemented the installation of the Fibre Optic National Network (FONN) and the Teams projects, with two cable landing rights licences issued to the Teams and Seacom.
By end of last year, the number of ISPs expanded by 18 per cent from 256 in 2018 to 302 in 2019.
"This growth is attributed to increasing demand for fibre optic connection by individuals and businesses," said Kenya National Bureau of Statistics (KNBS) in the 2020 Economic Survey.
The idea of setting up the undersea cable came much earlier in 1995 when Rege was consulting for AT&T, a US telecommunications company.
He was one of three engineers tasked with designing the ring-around-Africa, aimed at bringing the cables to 35 calling ports in Africa and accessing landlocked countries through microwaves and satellite dishes.
There was concern that Africans were not communicating with each other under one satellite. Instead, they were communicating through Europe.
"For example, DRC Congo was talking to Congo Brazzaville via Brussels and France, yet the two Congo are just neighbours with microwaves facing each other, but they never kissed each other," says Rege.
"Kenya would talk to West African countries via France or United Kingdom."
This is a legacy of colonisation, he says. Because communication across Africa was so expensive, Côte d'Ivoire, for example, would buy potatoes from Netherlands rather than Kenya.
"That is why we came with this idea: to put all African countries under one communications satellite."
Rege also contributed to the creation of the now infamous Konza City, a technopolis situated in Machakos County.
"I was not calling it Konza City, but I was calling it an ICT Park. And the idea was to start it here at Uhuru Park," he says.
"The reason why I wanted it there, was just to build big structures of all-glass buildings so that Kenyans would compute 24 hours."
When he left government at the end of 2005 following the fallout between President Kibaki and Prime Minister Raila Odinga, Rege handed everything over to Bitange Ndemo - who he says did a commendable job.
He has a lot of faith in Konza City, and is proud of Prof Ndemo, now a lecturer at the University of Nairobi, for pushing the project forward.
Rege is a crusader for the technopolis, despite it being derided by critics as a white elephant, which he insists is critical going forward.
"Today, you cannot say that this is the limit," he says.
Chinese telecoms giant Huawei is reported to have inked a deal with the Government of Kenya that will see it fund the smart city for Sh17.5 billion.
Such a project, complete with a data centre, says Rege, would have been critical particularly at a time when the economy was partially put under lockdown to curb the spread of Covid-19.
In the months since March, there has been increased demand for broadband and its associated services.
These services, such as virtual meetings, are guzzlers when it comes to bandwidth, says Rege.
"A technopolis would house many networks service providers locally, instead of going abroad. "Today at Ketraco, we are building a high voltage power transmission network into Ethiopia, some 600 kilometres. If we don't digitise it, we can't see it being vandalised," he explains.
As the interview comes to a close, I ask him whether African countries made a mistake by by-passing agrarian and industrial revolutions to ICT and other service sectors such as banking.
"I have serious switch in my house," he says. He would later show us the switchboard.
"I plan to connect it to my small garden here to control the watering of my vegetables. It can detect if it is going to rain so that it does not irrigate. That is ICT. And it is very easy to do."
That is how his family in Washington waters the lawns. "There is a small gadget detecting if it is going to rain. If it is going to rain, then the lawn is not watered."
Such technology will be critical for agriculture, says the father of three.
"In manufacturing, if we can control our energy by using IoT or Artificial Intelligence, we can bring down the cost of energy which will subsequently encourage manufacturing in this country," he says.
This, he says, is because local firms will produce competitively against countries such as China.
But there is also the part of leveraging on ICT to save both time and money.
Meetings, he says, can be done virtually. People do not have to burn fuel or spend millions on air tickets to attend meetings.
"You don't have to drive back here for a meeting. You are using ICT. And you see each other. There is nothing else that is left."
"So everything is interconnected using this animal called ICT."