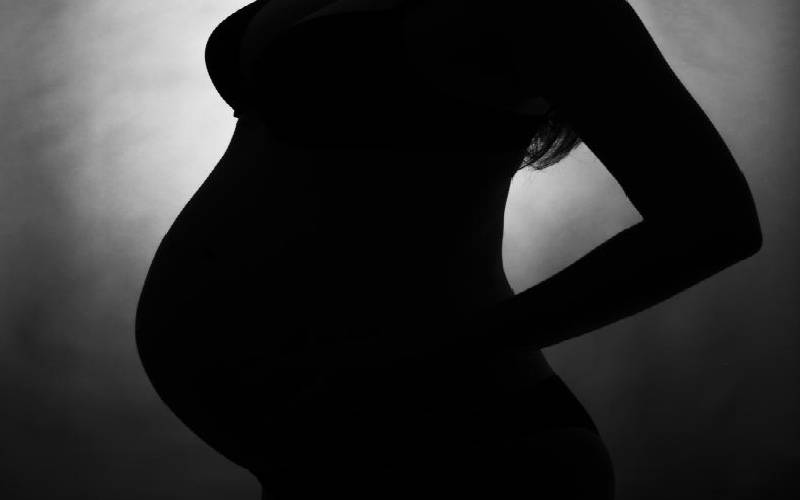 As coronavirus continues to ravage the world, pregnant women have found themselves at cross roads, having to choose between potential exposure to the virus, whose effects on their unborn children is unknown, and attending regular antenatal clinics.
This is as a result of the pandemic pushing many health systems to the edge, resulting in a reorganisation of health services, the non-urgent care suffering the brunt of it. However, some aspects of health services such as maternal health are like a ticking time bomb — they cannot wait or be postponed.
Betha Akinyi, a 32-year-old mother of seven, who lives in Olympic, Kibra, gave birth a month ago. While she first delivered at the age of 13, this period has been the most hectic. She has attended only one antenatal visit since she found out she was pregnant.
"I feared going to the hospital lest I was told I had corona then get locked up in isolation. What would happen to my children? Who would take care of them?" Akinyi posed.
Even though she would have wanted to keep up with the minimum of four visits, the hospital had been closed. Kibera South health centre, popularly known as Kawanga, was closed after a watchman and some medical personnel tested positive for the virus. Her other option was the CDC hospital in Kibra, but she could not, as it served as a Covid-19 testing centre.
"I went only once since I needed the maternity card," she explained. "Other facilities available were not offering free services."
When the baby was due, Akinyi opted to give birth at home, but when the pain was unbearable, she called in a friend, who insisted that she delivers in a hospital since she had not been up to date with her clinic visits.
"My husband had told me to go to KNH (Kenyatta National Hospital) or Mbagathi so as to deliver for free, but it was too far. I had some friends who helped me and paid for my bills, as my samosa business had gone down. I fear corona, even the doctors in hospitals fear it," she said.
Hellen Adhiambo, a 30-year-old mother of two and a resident of Kisumu Ndogo in Kibra, gave birth three months ago. She had feared to go to the hospital because of the 7pm curfew restrictions that found her at home after her labour pain started at 5pm.
"The experience was not good. It was a lonely affair, as the hospital was taking in only one person. Not even my husband was allowed in," Adhiambo said.
She is lucky to have kept up with antenatal care after being advised by Awoche Foundation. But now she is facing a bigger hurdle on where to take her child for vaccination after the hospital was closed. She only managed the first immunisation at a private facility.
The closure of Kibera South health centre deprived a lot of women an opportunity to get better maternal care.
"I was informed by the facility that they had opened and that I could take the baby for immunisation. I fear, but I will just wear a mask, take the baby there, hoping we won't contract the disease. I can't pay for services in a private facility," She added.
Florence Shisia, a mother of two, is currently seven months pregnant and has been attending antenatal clinics, but she still lives in fear of going to the hospital, risking contracting the virus and going through the process of getting tested, which she says looks irritating.
So far, she has only managed two visits necessitated by discomfort that she thought might risk her baby's health.
Medics scared
"The medics are very scared in hospitals. They don't even want you close," said Shisia.
She explained that before the pandemic, the nurses would ensure that they fully examined the women and even tell if the baby was in the right position. Right now, she says, medics only check for the heartbeat, a worrying trend.
Mrs Evelyn Bowa, an advocate at Awoche Foundation, says they have now shifted their focus to ensuring pregnant women in the slum get prenatal and antenatal care. Bowa says they train women to take precautions if going for checkups during this period. Their door-to-door sensitisation is beginning to bear fruit as women who had feared going to hospital have started returning.
Bowa terms lack of personal protective equipment for health workers a risk, as they will be exposing the already vulnerable pregnant women who seek their help. She now calls on Nairobi Metropolitan Services and the Ministry of Health to supply personal protective equipment to smaller facilities so that women can feel safe enough to visit hospitals.
This concern and closure of major maternity hospitals like Pumwani has sent many expectant mothers from lower social economic residences into panic.
Women flood facilities such as Bahati health centre after the suspension of regular services in Pumwani. Eastleigh and its environs, such as Kiambiu, depend on Pumwani for maternity services, but mothers there now have to resort to private facilities.
Rosemary Kisiula, a community health volunteer in the area, says pregnant women who had registered themselves at Pumwani are now a frustrated lot. Most of them have missed antenatal appointments, and their work has shifted to advising women on other affordable facilities nearby.
"Now pregnant women with complications and need for surgery will suffer a lot, maternal deaths may increase," she says. "We request the government to re-open Pumwani as women from this area can't afford private facilities."
Services at Kenya's premier maternity hospital were suspended after 41 healthcare workers tested positive for Covid 19. The facility now only takes care of emergencies. Nurses there had also gone on a go-slow for lack of personal protective equipment.
Pumwani, under Nairobi Metropolitan Services, has been allocated Sh199,252,000 as their estimated budget in the 2020/2021 financial year. In its budget, purchase of protective gears is not a priority, therefore, the cry of health workers lacking protective equipment in the facility might recur and the hospital may be shut down for a longer period.
Despite assurances by the acting Director General of Health Dr Patrick Amoth that PPEs would be supplied, the staff say it does not meet the demand.
Lucia Laboso, head of advocacy at Evidence for Actions (E4A), says women skipping antenatal clinics may reverse gains the country has made in improving maternal healthcare. Additionally, she says diseases such as measles and polio may lead to other pandemics if mothers keep skipping routine vaccination schedules.
"The future is quite bleak for mothers and the country. If measles were to break out in a place like Kibra, it would be catastrophic," says Laboso.
Dr Fredrick Kairithia, an obstetrician gynaecologist, acknowledges that utilisation of maternity and reproductive health services has been disrupted by the pandemic in terms of access and demand. He urges mothers, especially pregnant women with chronic conditions, to seek medical services.