How Trump is scuttling Uhuru's jobs blueprint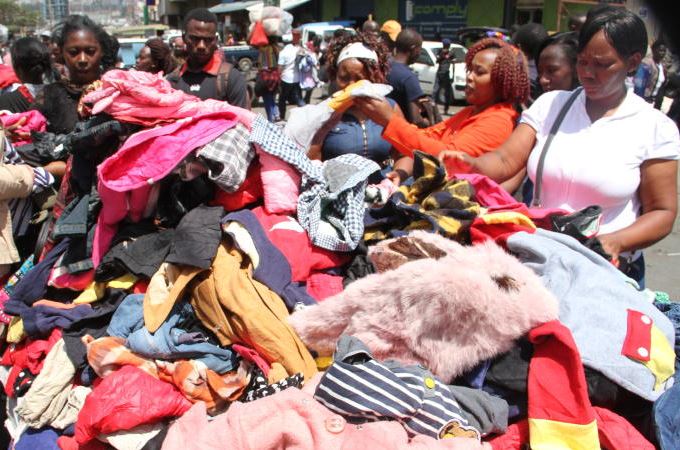 President Uhuru Kenyatta's ambition of helping over a million unemployed youth get jobs before he bows out in 2022 is being frustrated by his US counterpart Donald Trump.
Determined to push America's commercial interests, the Trump administration has bullied Kenya into back-peddling on part of its job-creation plan in the textile sector, which includes raising tariff barriers against importation of second-hand clothes even as it offers incentives to local producers.
Trump, famous for his 'Make America Great Again' slogan, has arm-twisted Kenya and other East African states by threatening to withdraw them from a preferential trade agreement.
This has led to a surge in the value of imported second-hand clothes, commonly known as mitumba. The value of the imports rose by a third to Sh16.9 billion last year from Sh13.1 billion in 2017.
The quantity of imported mitumba also increased to 184,555 tonnes in 2019 from 177,160 tonnes in 2018 when Uhuru unveiled his job creation plan as part of the manufacturing pillar of the Big Four Agenda.
Yet, former National Treasury Cabinet Secretary Henry Rotich - who after unveiling the Big Four Agenda in the 2018 Budget Policy launched an assault against mitumba - had hinted that Kenya would stop the flow of the clothes into the country.
Experts have blamed increased imports of mitumba for the collapse of the once vibrant textile sector.
Others have cited inability for Kenyan producers to efficiently produce quality and affordable garments as the main reason for their collapse.
"Our textile and footwear sectors are closing down due to increased unfair competition from cheap imports," said Mr Rotich in his Budget Speech in June 2018.
Starting July 2018, Rotich said, all imported clothes including mitumba would be slapped with a higher import duty of $5 (Sh500) per unit or 35 per cent, whichever was higher.
He said the tax was aimed at encouraging local production and creating jobs for the youth in the sector.
But in official documents, Rotich proposed something different. He broke ranks with the other East African Community (EAC) finance ministers and instead reduced tariffs on imported second-hand clothes in what was seen as a strategic decision by President Kenyatta's administration to maintain cordial relations with the United States.
An EAC Gazette released after the budget showed that importers of mitumba would bring into Kenya the products at a reduced tariff of $0.20 (Sh20) per kilogramme in the 2018/19 financial year.
This was after a reduction of 50 per cent from an applied tariff of $0.40 (Sh40) per kilogramme.
For the three months that followed the gazette notice -July and September 2018 - imports of second-hand clothes almost doubled compared to the same period in 2017.
Uganda and Tanzania, which like Kenya had also promised to ban imports of mitumba, retained their duties on the used items.
In mid-2017, Kenya said it would "comply" with America's African Growth and Opportunity Act (Agoa) and withdrew a proposed ban on used clothes.
Only Rwanda went ahead and implemented a programme of phasing out mitumba in a bid to shore up its manufacturing, to the consternation of Trump who swiftly penalised Kigali for its 'unfair' practices.
Unfettered entry
The 2018 Budget Policy Statement shows that the government plans to create over half a million jobs through the textile industry.
But so far the Trump administration has scuttled this plan by arm-twisting Kenya into allowing unfettered entry of second-hand clothes as a condition for it to access the US market under Agoa.
Agoa is a preferential trade agreement between some 40 Sub-Saharan African countries and the United States that allows traders to access the US market duty-free.
Two years to the end of Uhuru's term in 2022, the contribution of manufacturing to the economy is declining instead of going up. Last year, manufacturing contributed 7.5 per cent of gross domestic product from 8.1 per cent in 2017.