Agony for cancer patients as caregivers stay away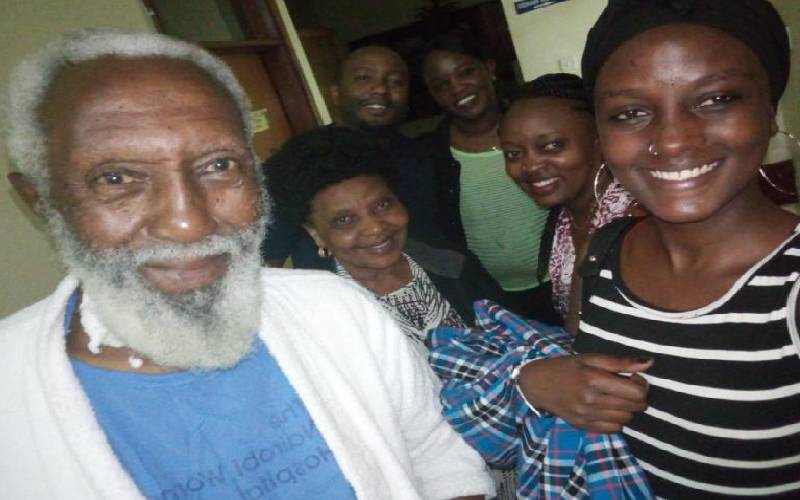 Mary Gitonga is lonely. The cool morning breeze does little to give peace of mind to the 57-year-old resident of Kiagororia, in Nakuru.
Ms Gitonga has breast cancer and needs palliative care and regular medical check-up.
But she has nobody to take care of her fragile body, a situation that has been worsened by the outbreak of Covid-19 in the country.
Gitonga also has diabetes and hypertension, conditions that compromise her immunity.
At times, she develops breathing difficulties, but has nobody to help fix her oxygen.
Her two sons died in 2018.
"I am not sure if I am alive or I dream about life. This life seems too lonely and I just wait for God; I will accept His will," says Gitonga in despair.
Take a quick survey and help us improve our website!
Take a survey
She says before the outbreak of Covid-19, neighbours used to visit her but not anymore. The home is now cold.
"I am scared of visiting anyone because I know I might easily get infected with Covid-19 and die. I therefore prefer locking myself in the house," she adds.
At home, Gitonga wears a mask and washes her hands regularly with soap and water to prevent coronavirus.
Congestion
Though she undergoes chemotherapy at the Rift Valley Provincial General Hospital, she fears she might contract coronavirus due to congestion.
"The hospital is not safe for me and I trust no one," she says. Despite being in pain, she cannot access morphine, a strong painkiller that is out of stock.
"I use betapyn since there is no morphine, but the pain is severe. I wish the government would consider replenishing the stock," she says.
Her predicament is what is facing patients in need of palliative care at home, amid limited hospital visits.
Gitonga, who is the chairperson of palliative patients at Nakuru Hospice, notes that majority of the patients are not able to access critical equipment while some are being attended to by unskilled care givers. There are 553 patients in need of palliative care at the hospice.
Carolyne Wandia is yet to come to terms with the pain her 83-year-old father endured while fighting for his life at their home at Golf Course Phase 2 estate in Nairobi.
Benson Waciira was diagnosed with pancreatic and prostate cancer in November, last year at Kenyatta National Hospital.
He asked to be placed under palliative care at home and the family contracted a nurse who was charging between Sh1,200 and Sh1,500 daily, depending on services offered.
At some point Waciira underwent a procedure to restore his bile.
He would be visited by a doctor at least twice a week.
"We adhered to my father's wish and placed him on painkillers. We wanted him to have quality care at home," says Wandia.
On April 2, the doctor discovered that he had shortness of breath and was in need of oxygen. The family decided to hire an ambulance to transport Waciira to the nearest facility, but it arrived about one hour later.
"We needed a vehicle with oxygen to take him to hospital, but we waited so long," she recalls.
By the time he arrived at Coptic Hospital, Waciira was short of breath and died on April 3. "Perhaps if my father had oxygen on time, he could have survived," she says during the interview.
In line with government guidelines to curb the spread of Covid-19, the family was not allowed to hold meetings for funeral arrangements.
"We were directed to travel to our rural village in Karatina to bury and immediately get back the very day. I wished I could give my father a befitting send-off. This makes his death so painful," says Wandia.
Jonathan Lemian is also ailing at home after he was diagnosed with cancer of the skin.
He endures pain on the wound on his right hand. The 49-year-old dresses the wound with a piece of cloth, but the condition worsens each day.
The patient, who was diagnosed with cancer last August at Tenwek Mission Hospital, has been visiting Narok Hospital, but there are no specialists nor morphine to ease the pain.
He fears travelling to Nairobi to replenish morphine because of congestion in public transport that could predispose him to Covid-19.
"Last time I travelled to Nairobi I pleaded with the county to provide me with an ambulance. How can I travel by public means and get back safely," he poses.
Before outbreak of the pandemic, he used to travel to Cancer Centre in Nairobi every two weeks for review by a specialist.
At the facility, he would undergo chemotherapy, wound care, radiotherapy and receive psycho-social support.
"Interacting with other patients used to give me hope of seeing tomorrow, but my faith is waning daily. I a weak inside," he says.
The patient communicates with his doctor through tele-medicine to get instructions on how to nurse the wound.
"I keep my doctor informed about my condition, however, I need check-up because I feel weak day by day," says Lemian.
Nafula Wekesa, palliative care specialist at Health Care Global, Cancer Care Kenya advises patients to limit interactions and hospital visits because of their compromised immune system.
Dr Wekesa urges care givers and patients to wear protective gear like masks to limit chances of contracting Covid-19.
Severe complications
She advises patients to go for regular medical check-up.
"Patients need to be evaluated and given care in hospitals, services that can be offered through telecommunication," she says.
Wekesa notes that palliative care patients lack morphine that relieves severe cancer pain.
She explains that Kenya Medical Supplies Agency received only 11kg of morphine powder on February 19, despite average consumption in the country being 50kg annually.
"It is estimated that only one to 10 cancer patients in public hospitals have access to morphine," she says.
Wekesa regrets that there are few trained palliative care givers managing patients at home. "Not everyone understands how to take care of the sick. Lack of skilled care providers may result to severe complications that are noticed at advanced stages, leading to deaths," she says.
She adds that emotional support to patients can be given through telemedicine, which is part of psycho-social support.
"Counselling can be given through phone, video, WhatsApp and zoom calls," she says.
For dying patients, Wekesa advises families to record audio or calls that can be played at the hospital for the sick.