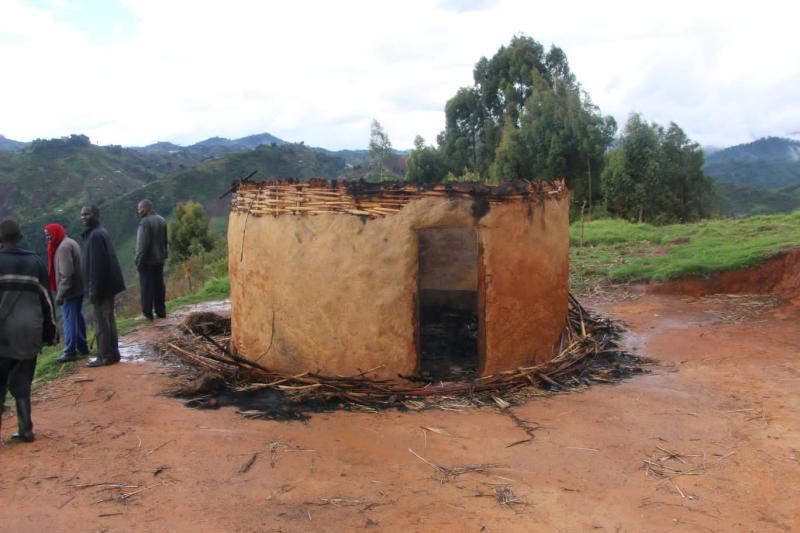 Tension was high in Maron, Elgeyo Marakwet County after armed men burnt down more than 20 houses in renewed land skirmishes.
The gun-wielding men invaded six clans in the sub-location, displacing more than 50 families, according to local authorities.
The gunmen stormed the area at about 7am yesterday before unleashing terror, burning houses and looting property. The raiders warned residents to relocate and not to return to their farms.
Two years ago, 57 houses were torched and over 100 families displaced in a clash between rival clans. The 2020 arson attacks happened for two days in a row. No suspects were arrested, residents claim.
Maron assistant chief Robert Chelang'a said the attackers also burnt granaries destroying maize.
"The attackers also made away with 10 sheep and several household items including mattresses and blankets," the chief said.
"They shot in the air for several minutes, to scare locals. The police are still pursuing the suspects."
Jennifer John, a victim, said the attackers who were estimated to be more than 30 stormed her residence while she was taking breakfast with her children and ordered the family to get out before torching the grass-thatched house.
"I had Sh10,000 which was for shopping for my son who is to join Form One at Marakwet Boys.
"They took the money and asked why I was not moving away from the area. We were all in panic because they were shooting in the air as they ordered us out. I couldn't salvage anything," Jennifer said.
She said police officers from a nearby station arrived after 30 minutes but could not repulse the armed men as they were overwhelmed.
Jennifer said a reinforcement from the sub-county headquarters in Chesoi arrived two hours later, but the attackers had fled towards the Kerio Valley.
"There is a humanitarian problem here. Many families have been rendered homeless, with little support from the government," Jennifer said.
"They are now camping on the roads. The attackers are still shooting in the air from their hideouts along the bushy escarpments and we don't know why security apparatus are not pursuing them."
Elgeyo Marakwet County Police Commander Patrick Lumumba said additional police officers were deployed to the area to pursue the attackers.
"We have been informed that the attack was caused by a land dispute. We are trying to restore calm as we pursue the suspects," he said.