KDF partners with Gilgil CDF to drill water for area residents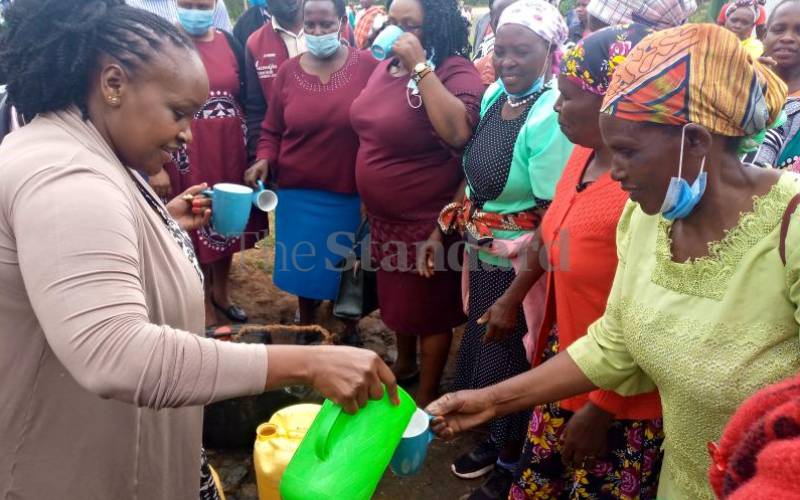 National Government Constituencies Development Fund (NG-CDF) in Gilgil has patterned with the Kenya Defense Forces to drill boreholes in parts of the constituency.
Under the programme, KDF will drill ten boreholes in the semi-arid constituency.
Already, five boreholes have been drilled in different villages, benefiting over 5,000 households with plans to get more in the coming months.
Already, Gilgil MP Martha Wangari has commissioned the Thugunui borehole in Mbaruk Ward after successful drilling in the joint partnership.
According to Wangari, Gilgil was home to hundreds of soldiers based in the two barracks, and the joint partnership would greatly benefit area residents.
She admitted that water shortage had affected farming, learning and livestock rearing, noting that the drilling programme would address that.
"We are working with the KDF in the ongoing programme to drill boreholes. We are targeting a total of 10 boreholes by August next year," she said.
Wangari attributed the high disease burden in the area to a lack of water due to the harsh weather conditions.
She said in the past, residents, including school-going children, walked long distances in search of water.
"This had affected the quality of education because the students had to drop out of school to search for water, but the new borehole will resolve that," she said.
The MP challenged other donors, including the county government, to chip in and assist the residents with pipes so that the water could be piped to their homes.
"In all the boreholes that we have drilled, we have used solar as the main source of energy as it is cheap and readily available," she said.
Loise Njoki, a beneficiary, told of their suffering, noting that they had to walk for over three hours daily to get water before the borehole was dug.
"We thank the MP for the borehole because it will end our suffering and that of our children. Before we had problems with sanitation," she said.
Sam Chege, another beneficiary, said farming and livestock rearing had become a challenging venture in the village due to lack of water.
"We shall now engage in agro-farming as we seek more donors to help us with pipes so that the water can get closer to our homes," he said.