Police boss Hilary Mutyambai: We'll restore security in Laikipia soon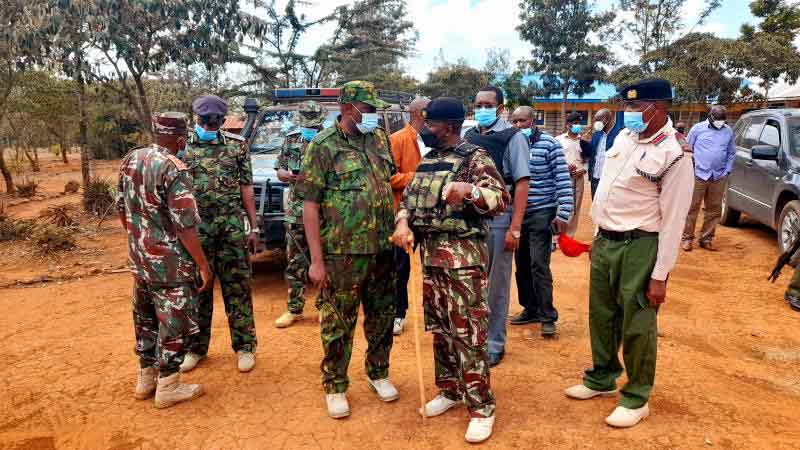 Inspector General of Police Hilary Mutyambai has said they plan to flush out bandits from the expansive Laikipia Nature Conservancy and restore order within a week.
Mutyambai visited the troubled Laikipia North and West constituencies yesterday and assured residents of their security.
"We are almost done with getting rid of illegal herders and their livestock in the conservancy. Our focus now is securing areas outside the conservancy," he said.
The police boss addressed the residents at Mirgwit Primary School, which was partly razed down by suspected bandits on Tuesday. He was accompanied by Rift Valley Regional Commissioner George Natembeya, top police bosses coordinating the security operation, and air and ground surveillance security teams.
He urged the residents to return to their homes in the secured areas as the operation continues.
There was a heavy police presence at Ol Moran trading centre where a majority of the affected families have relocated to.
General Service Unit (GSU) officers and armoured personnel carriers were conducting patrols in the villages as the residents continued to remove their property from abandoned homes.
"We have managed to secure Ol Moran settlement and we are continually beefing up security in the area. There have not been attacks in the past two days," said Mutyambai.
"With the assistance of the regional security team we are looking at ways of expanding our security coverage in the area. Establishment of permanent police bases in the disturbed region is among our plans."
Natembeya said learning had been interrupted in at least five schools after residents fled their homes in fear of attacks.
"Only Mirigwit Primary School was attacked, but learning has been paralysed in four other schools. Police officers shall be stationed in all the schools to allow learning to resume," he said.
This came as it emerged that bodies of two men and their burnt truck were still lying in the Nagum area a week after they were abducted and killed by bandits.
Classified aerial photographs taken by a government agency and seen by The Standard showed the burnt shell of a truck and one body lying a few metres away in the middle of a small open field within the bushes.
Truck drivers held demonstrations in Nyahururu town demanding the immediate removal of the two bodies of their colleagues murdered on Friday last week from the war-torn area for proper interment.