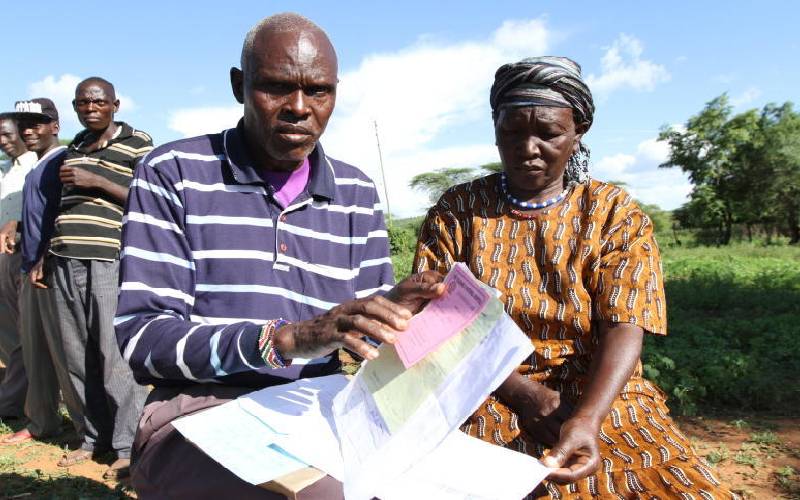 A family in Baringo County is still plagued by Hepatitis B disease, having lost three members last year.
Samuel Kiptala from Kinyach village in Barwessa location lost the children – Abraham Roit, Elijah Chemweno and Rosa Chemweno – to Hepatitis B last year, leaving the father with a scar that is yet to heal.
Kiptala's last son Hillary Kiptala, 25, is also nursing the disease that he contracted in 2015.
The devastated father told The Standard that he can no longer raise money to purchase drugs for his son.
The Standard established during a visit to the homestead that Hillary is growing weaker each day and he fears his internal organs, including lungs and kidney, may be damaged. Poverty, he said, has forced him to use painkillers to ease his agony.
This is a grim picture that the majority of Hepatitis B patients face in Baringo, a situation that seems to worsen with Covid-19 pandemic, even as the country joined the world yesterday to mark World Hepatitis B Day.
Residents claim they are not screened, there are no drugs in public hospitals, with some forced to use ARVs to suppress viral loads.
Prevalence of the disease in the county, according to county health report, is 12 per cent compared to the World Health Organisation (WHO) of five per cent.
According to WHO, at least 325 million people are living with Hepatitis B and C, with 1.3 million lives lost each year to the viral disease.
Affected areas
In Baringo, the most affected areas are Nginyang, Kalabata, Ayatya, Kimnai and Kaboskei in Baringo North, Maji Moto, Loboi, Sandai and Marigat in Baringo South.
Kinyan location chief Jackson Kipkalon is among locals struggling to access drugs after having been diagnosed with the disease last July at the Rift Valley Provincial General Hospital.
His wife and daughter are also ailing from the viral disease spread through contact with body fluids of an infected person.
Due to fear of contracting Covid-19, the local administrator locks himself in the house.
"My immune system is already compromised. Even though I wear a mask, I trust nobody as I risk contracting the disease," said the chief.
He is forced to travel to Nakuru, about 250 kilometres away, to access drugs as nearby hospitals of Barwessa, Kabartonjo and Kabarnet have no supplies.
Currently, he is forced to source for ARVs not because he is positive but due to lack of any other alternative, to suppress viral loads.
"I spend approximately Sh3,000 on medical review at the Rift Valley Provincial General Hospital and accommodation in Nakuru," he said.
Screening, testing and supply of drugs by authority remains a nightmare. Vaccination costs Sh800 in some public hospitals and Sh1,200 in private health facilities.
David Cherop, chief officer of public health said there are no definite numbers of Hepatitis B patients, but added on approximation, there are 124 positive cases.
In a contradicting statement, Cherop said that 148 Hepatitis B patients are on treatment.
The health official added that at least 3,951 people have been vaccinated in the sub-counties of Baringo North, Eldama Ravine and Mogitio, in the last two years.