Justice elusive for Solai Dam victims who want to move on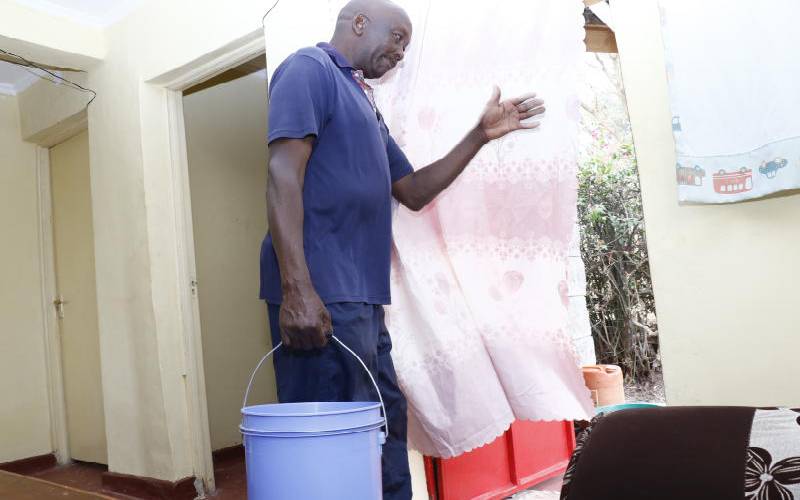 May 9, 2018 was going to be an ordinary day at the Patel Farm in Solai, Nakuru County until the gods of fate decided otherwise.
Solai Dam within the farm burst its walls, discharging millions of gallons of water downstream, sweeping through homes and leaving a huge trail of death and destruction.
Since then, life has never been the same for hundreds of affected families.
At least 48 people, half of them children died in the senseless disaster.
Isaac Muna was devastated by the tragedy that made him a widower. To add insult to injury, for several months, he had no place to call home.
Though memories of the tragedy still haunt him, Muna is ready to embark on a new life journey after he moved to the new housing units constructed by the Kenya Red Cross Society (KRCS).
Red Cross constructed 37 housing units at a cost of Sh37 million, with each unit costing Sh850,000. The project was allocated Sh1 billion by the national government to support the victims of the flooding.
"This will forever remain my home, I am happy to be back," Muna says.
He says renting a house at Solai trading centre for a year was constraining his family's finances and he is grateful for the two bed-roomed fully furnished house.
The homes have a store and a sitting room and adjacent to the houses is a kitchen and a toilet.
Rehabilitate farm
However, Muna is asking the government to assist him cultivate his farm so he can plant food crops.
Veronica Wanjiku, 65, has also moved in to a two bed-roomed house constructed by the African Inland Church -- as she waits to get into one of the units constructed by KRCS.
"My new house is good, but I am yet to move in because I am waiting for prayers from church leaders. I like the house," Wanjiku says.
The mother of four lost property worth millions of shillings -- including poultry and a water pump that she used irrigate her tomato farm -- but looks to the future with hope.
Times have been difficult for Joseph Gathogo, 37, and his wife Rose Wangui. They lost four children aged between one month and eight years.
Their new home is cold and quiet, their only companion is a transitor radio, and even the soft music from it does not give them solace, or make them forget that dark night, when water swept through their home, taking with it their children.
Gathogo says they are still grieving and even a new home does not give them any joy.
"This is a posh house but I am yet to move in because it rekindles memories of the tragedy. Life is boring without my children. They used to welcome me with smiles after a long day at work," Gathogo says.
The couple stays with Gathogo's mother, who has been encouraging them to accept the huge loss, pick up the pieces and move on.
Even though they have been given a house, Gathogo feels the State should enable them attain justice.
"The government moved swiftly to help us move from the camp after the tragedy and we were promised resettlement but we feel cheated and abandoned," he says.
Apart from the Sh50,000 resettlement money they got from the government, he received Sh100,000 for each of his children after signing an indemnity form from the dam owner on June 29, 2018.
According to the document, individuals who lost their loved ones would receive Sh100,000 for each. Those whose semi-permanent houses were destroyed would get Sh200,000 and those who lost permanent houses would receive Sh1 million.
"Something needs to be done for justice to be realised. This is what shall make me as a victim recover," he says.
John Mwangi, who lost his wife, Virginia Wanjiru, says local administrators have been a major hindrance in their push for justice.
His house, which he says was worth Sh3.5 was swept.
He says whenever the victims congregate, they are victimised by chiefs and police officers.
"Being given permanent houses is a good initiative by the government, but we need swift action for justice to be attained," Mwangi says.
He is yet to move in to the new house, citing insecurity. He is planning to construct a perimeter wall.
The Director of Public Prosecutions Noordin Haji has since issued a warrant of arrest for Kensalt Limited and the Patel Coffee Estates Limited, Perry Mansukh Kansagara and Vinoj Jaya Kumar.
Justice
Other officials of the farm who were arrested and are facing charges in court include Johnson Kamau Njuguna, Tomkin Odo Odhiambo, Winnie Muthoni Mutisya, Jacinta Were, Williec Omondi, Luka Kipyegon and Lynnete Jepchirchir.
They face charges of manslaughter, neglect of official duty and failing to prepare an Environmental Impact Assessment Report.
However, victims have also raised an issue regarding postponement of the case, saying the move by ODPP is derailing justice several months after the arrest. The case is yet to start at Naivasha law courts.
Normalcy has not returned to the affected villages of Energy, Nyakinyua and Nyandarua, and locals are struggling to pick up the pieces.
A number of business structures at Solai shopping centre are under construction, and the few that withstood the wrath of the waters are closed.
The farms have bare rocks as the top soil was swept by the water and the villagers cannot engage in agricultural activities.
KRCS Deputy Governor Pascal Mbeche says they would embark on a project to supply water to residents of Energy village.
"Provision of shelter was to be the first phase of restoration and to enable victims settle, and we shall supply water too. The tender for supplying water is being worked on and this project will benefit everyone," he says.
Raymond Komen, the County Trade Executive says surveyors were sent to the site to help refill the gullies so locals practice farming.
The county government was expected to work on roads and rehabilitate farm land.