Why policeman shot wife and daughter dead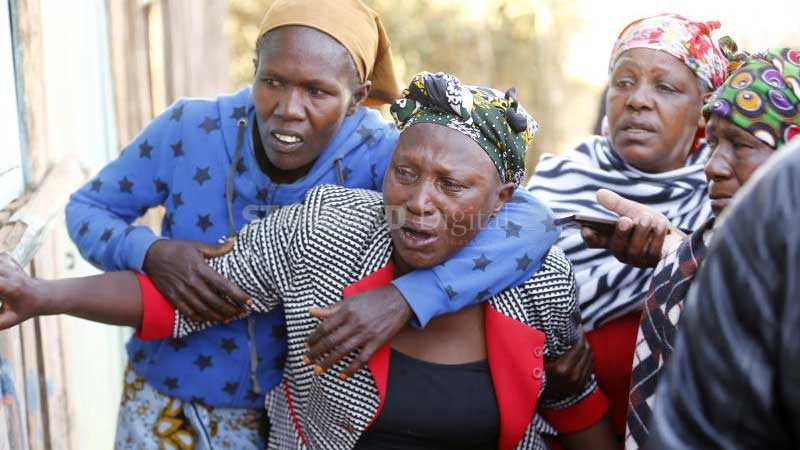 A police officer yesterday shot his wife and five-year-old daughter at the Anti-stock Theft Unit's Suswa camp in Weseges area, Subukia.
The 24-year-old constable was said to have quarrelled with his wife, Jane Njoki, 26, before killing her and their daughter in the 3am incident.
The officer escaped from the camp after he reportedly emptied 20 bullets into the woman's body.
Njoki's brother, John Nderitu, said he heard the sound of gun shots from the camp but could not go in to find out what was happening because it was a protected area.
"I was shocked to learn later that my sister and her daughter had been killed," said Nderitu yesterday.
He said his sister and the officer had been married for seven months but they had domestic difficulties.
Njoki's mother, Wambui Nderitu, was overcome by grief when she arrived at the camp.
She said was informed about her daughter's death at around 7am. However, she said police had given her little information about the shooting.
"I have no words. I cannot believe my daughter is dead. I am also shocked that the officer went on to kill an innocent girl," said Wambui.
She said the man had threatened to kill Njoki on several occasions.
"Due to the unresolved differences, the two had parted ways. They later got back together without my knowledge," Wambui said.
There were reports the constable had threatened to kill Njoki two weeks ago and had vowed to stab his mother-in-law.
"Njoki had moved out of his house and had rented her own when the quarrels became unbearable. The officer has been threatening to kill her. I am not surprised. He also said he would stab me with a knife," Wambui said.
She added: "My daughter was jovial and loving. She worked hard in her business and supported me financially. I feel sad to lose Njoki at such a prime age."
The county police boss, Hassan Barua, said the family arrived home at around 11pm.
However, a quarrel ensued after dinner and they went to bed without resolving the matter they had disagreed about.
"The two are said to have quarrelled again deep in the night, leading to the brutal murder of woman and child," said Barua.
He said officers who rushed to the house after hearing the gun shots found the two bodies on the floor but the officer was missing. He left the weapon in the house.
"We have intensified our search for the officer, who will be arraigned in court for murder when he is arrested," Barua said.
To fight drought, involve communities
According to the latest information from the Meteorological Department, rainfall will be poorly distributed in April, May and June, and this will have a serious impact on agriculture