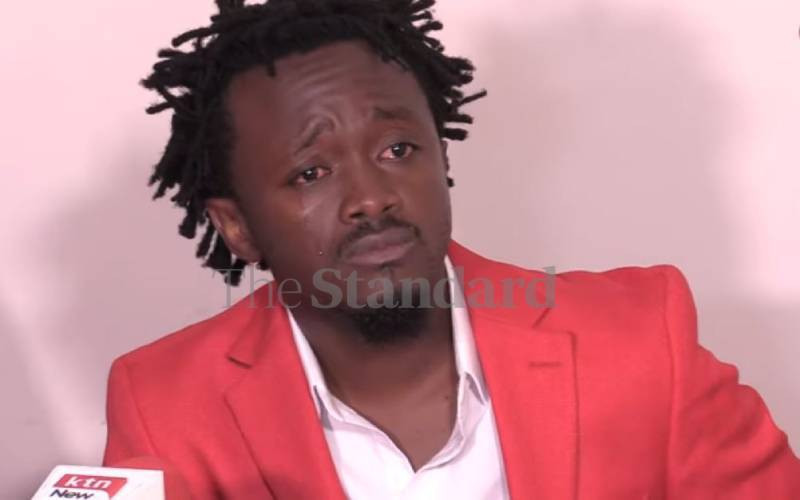 What he lacks in body size, Kevin Kioko, famous as Bahati, makes up for it with the size of his hair. His dreadlocks, however, aren't even half as long as the rivers his eyes are known to cry.
Sometime last year, Bahati shared a studio with two city lawmakers, who probably like each other as much as Jamaicans love barber shops, featuring them in one of his music videos - Adhiambo, a collaboration between Bahati and Luo Ohangla singer Prince Indah.
And after savouring the MPs' flamboyance, a dream to be a mheshimiwa was planted in Bahati's heart.
It was a more realistic ambition than his previous one of being president, which saw him unseat a sitting president in public in 2016.
Meeting Babu Owino and Charles Kanyi, alias Jaguar, in the video shoot left Bahati with more than just a dream. Their encounter offered practical lessons on navigating politics that would come in handy early in Bahati's budding political career.
Having grown up in Mathare, it was natural that he would want to represent his people in an informal settlement, selling himself as "someone who understands their problems, someone who comes from them (whatever that means.)"
And so he set out to scout for a party that would help him fulfill his ambition of earning the title 'honourable member'.
After spending time with Babu and Jaguar, choosing Jubilee was a no-brainer. Babu must have warned that earning an ODM ticket would require effort. Jaguar, on the other hand, must have counselled that all Bahati needed to do to get Jubilee's nomination was show the world his tears.
It had worked for the Starehe MP in 2017 when Jubilee initially denied him the party ticket.
The task at hand wasn't particularly daunting for Bahati, who has a reputation for never running out of 'machozi'. And he cried like never before when Jubilee, as expected, denied him the Mathare ticket, with the party insisting that it would sit out the race in favour of ODM.
"Please, give the youth of this country a chance," holding a recalled certificate, Bahati cried to the cameras, after he was asked to step down. It worked. And his face ended up on billboards.
Stepping into politics, Bahati had no doubt that he would be as successful as he has been in his singing career. He may need to polish his acting, but few would doubt that he has enjoyed an envious music career despite possessing a voice that is anything but nyororo.
Over the years, he has juggled the divine and the secular, collaborating with the biggest names in the industry.
They include 2022's breakout star, Babu, who, rather strangely, doesn't seem to recall meeting Bahati in-studio let alone remember his name, calling him Matthew at a recent rally in Nairobi.
His luck in politics would almost run out this past week when Azimio allegedly listed him as among the weak candidates the coalition party plans to prune in a countrywide zoning strategy.
Led by Edwin Sifuna, ODM's secretary-general, Azimio leaders offered Bahati a job away from politics, which they insisted wasn't Bahati's calling.
"Niko mbele kwa ground," the aspiring mhesh would say as he turned down the job offers.
This time, he must have taken Babu's probable advice that politics was a game of the brave and the bold and did not cry. At the back of his mind, though, he must have wondered "mbona mimi?"
And hence his recent admission that "siasa ni ngumu... ningebaki tu kwa usanii."