Muturi accuses Raila, Ruto of hypocrisy in Mt Kenya vote hunt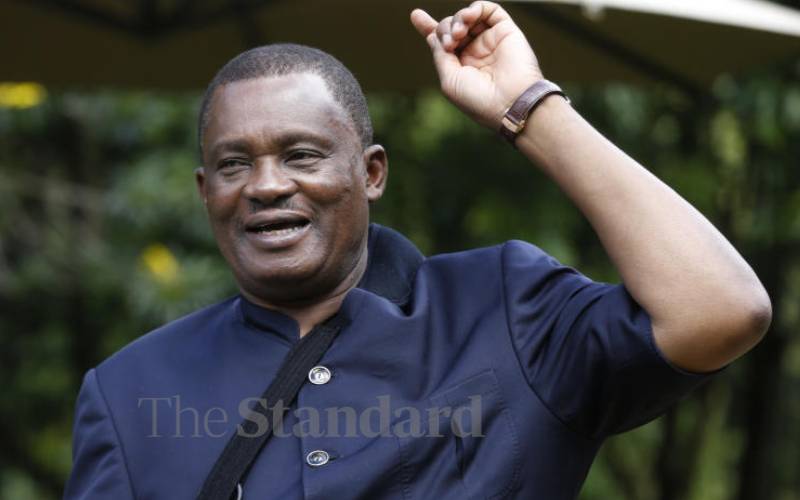 National Assembly Speaker Justin Muturi has accused ODM leader Raila Odinga and Deputy President William Ruto of hypocrisy in their bid to win the vote-rich Mt Kenya bloc.
While addressing leaders from Kiambu county over the weekend, the Speaker said it was ironical that the two leaders are now competing to endear themselves to the region, when their past actions and utterances betray their attitude towards the residents of the mountain.
"Now that they assume there is a vacuum and the votes in that basket are up for grabs, they are suddenly the darling of the region. We need to remind them that we know what they have stood for and show them that we know what they are interested in is our votes and not our welfare post-2022," Mr Muturi said.
He told Raila to stop being selective in his 'historical tales' as he seeks support for his candidature.
Muturi said that while bragging to have helped former President Kibaki to ascend to power in 2002 with the famous 'Kibaki tosha' slogan, Raila should tell the people that hardly two years later, he continuously rocked the Kibaki administration, resulting in the deadly 2007/2008 post-election violence.
"He says he was the one who declared Kibaki tosha. Very well, why doesn't he tell us that two years later, he was sacked by the same President for rocking his administration from within and seeking to lead a parallel government? Why does the story end with the tosha statement?" posed Muturi, adding that Raila also unduly takes credit for infrastructure projects in the region.
He dismissed Ruto's promise to set up a fund to help small business traders, noting that the DP chairs the Intergovernmental Budget and Economic Council (IBEC) where the country's resources are shared. Why these goodies he is promising have never been factored under his leadership should be questioned, he said.
"This is the forum where The Treasury, all the 47 county governors, all the County Executive Committee members in-charge of Finance, the Controller of Budget, Auditor General and any other organs tasked with distribution of the national cake congregate.
"He chairs the forum. Why hasn't he introduced these measures to help that Mama Mboga?" posed the Speaker.