Of flying water bottles, fistfights and the August house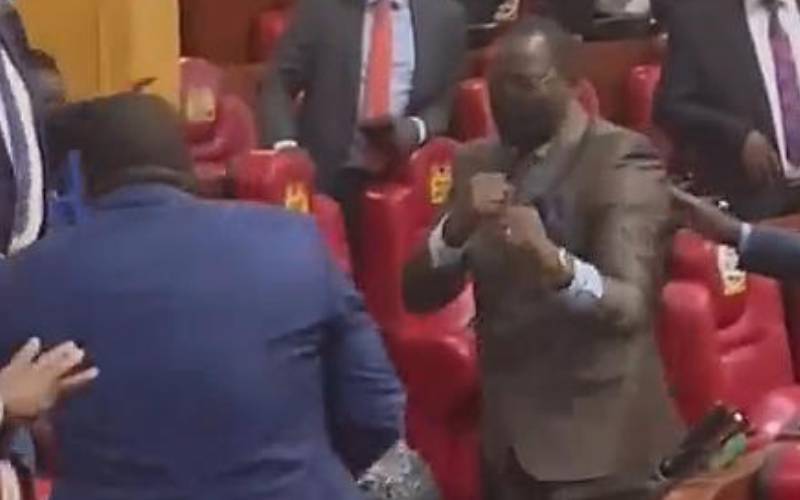 Most parents train their children to take a tumbler to the kitchen after cleaning up the table, but Members of Parliament cannot be trusted with a bottle of water.
And for that, they had to suffer 12 hours of parched throats as they canvased the Political Parties (Amendment) Bill, 2021, as water bottles were strictly prohibited in the chambers.
Deputy Speaker Moses Cheboi's response to Lamu Women Representative Ruweida Mohamed's request to have water in the chamber best illustrates how low the lawmakers have sunk.
"It is true we do not have water for very obvious reasons. You members were here last time when you utilised water for better things than thirst," Cheboi said in reference to last week's chaotic sitting that saw MPs use water bottles as weapons, as they have done several times in the past.
Wednesday's sitting was not as chaotic as last week's, but it was hardly an improvement.
It was a mockery of Parliament's mantra prominently inscribed at the entrance promising that the institution stands for "the Welfare of Society and Just Government of Men."
A male MP was captured on camera manhandling a female security orderly guarding Majority Leader Amos Kimunya who was being prevented by some members from prosecuting his amendment.
In retaliation, she pulled off the MP's mask. It did not end there.
During the charged debate, MPs hurled expletives while others made vulgar gestures as they jeered their rivals and cheered their purported comrades.
On several occasions, the Speaker forced lawmakers to withdraw words they termed "unparliamentary."
"Idiot!" Kandara MP Alice Wahome blasted Gladys Wanga (Homa Bay) on Wednesday.
Kimunya needed to be surrounded by Parliament's orderlies and his pro-handshake colleagues to ward off an onslaught from United Democratic Alliance-allied MPs.
That Kimunya spent the rest of the sitting in the Minority benches, despite having a dedicated seat in the Majority side, is a testament to his apprehension.
Throughout the debate on the Bill, the parliamentarians urged each other to maintain dignity but failed to heed their own advice.
Disorder is a staple of divisive debates in the august House, an indication of the apparent inability of MPs to resolve issues civilly.
On several occasions, MPs and senators, have scandalised Parliament, a House meant to inspire honour. A House of orderly and sober debate, has been turned into an arena for shouting matches.
Every so often, the National Assembly and Senate's vaults echo chants of "bado mapambano" and party slogans, as legislators pledge allegiance to their political masters.
Recent events have seen MPs turn the venerable House into the theatre of the absurd, erupting in song and shouts to achieve their legislative desires.
In December 2014, when the lawmakers debated the controversial security laws, MPs went for more than each other's jugulars, tearing their colleague's clothes, with others allegedly attempting to undress each other.
Former Machakos Senator Johnson Muthama would emerge from the National Assembly public gallery in torn trousers.
Another infamous moment of that debate saw Wanga pour water on the face of the then Deputy Speaker, the late Joyce Laboso. Years later, nothing much has changed. The past sittings, in which the MPs debated the Political Parties (Amendment) Bill, have again exposed their bad mannersisms.
In place of dialogue, fists reign and blood is shed. Minority Leader John Mbadi was suspended for five sittings after his brawl with Sigowet/Soin MP Bernard Koros.
After hiding, Nominated MP David Ole Sankok's crutches two weeks ago, Embakasi East MP Babu Owino justified his actions. "They could have used Hon Sankok crutches as a weapon to unleash violence on us, I saw it prudent to hide them until they cool down," he tweeted.
Violence is not the MPs only bad trait. In Wednesday's sitting, Kiharu MP Ndindi Nyoro alleged that Wajir Women Rep Fatuma Gedi was giving out money. Gedi refuted the claims, saying she was distributing sweets to her colleagues.
Nyoro earned a two-day suspension for failing to substantiate his claims, with Gedi suspended for a sitting for distributing the sweets.
While the bribery claims may have not been substantiated, MPs have faced similar allegations in the past. Last year, alcohol manufacturer London Distillers Kenya Limited wrote to Speaker Justin Muturi seeking an investigation of the Committee on Implementation of House Resolutions over bribery claims.
Members of the committee allegedly received free and subsided homes to recommend the closure of the firm for allegedly polluting the environment.
In 2018, the Speaker ordered an investigation into claims that MPs were bribed to reject a report on contaminated sugar. These allegations were never proved.
Another tactic MPs have mastered is skipping sittings to frustrate the passage of critical laws. The gender parity law, for instance, requires the presence of two-thirds of all MPs to pass.
The gender law has flopped four times in the National Assembly, following quorum hitches.