2022 test for Coast fringe parties as they fight for their survival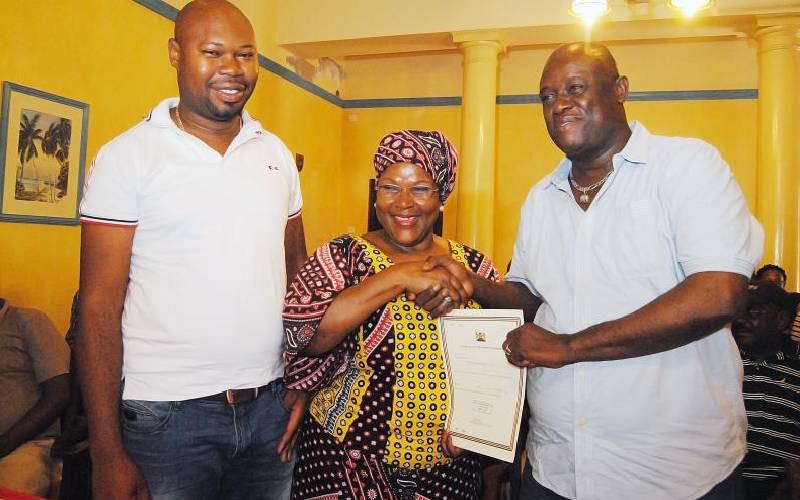 Fringe parties at the Coast are now regrouping ahead of next year's elections.
The small parties are mainly targeting members of the county assembly (MCA) and parliamentary seats to restore their lost glory. In the last elections, none of the parties won a parliamentary seat.
Shirikisho Party of Kenya, which is one of the Coast's oldest political parties, burst into glory when it won the Likoni parliamentary seat in 1997. Their candidate, Suleiman Shakombo, later served in Cabinet as National Heritage minister.
At the tail-end of his first term, Shakombo decamped to Kanu and later National Rainbow Coalition (Narc).
The party was lucky to win the Magarini parliamentary seat in 2002 through Harry Kombe.
This was after the then Cabinet minister Chirau Ali Mwakwere took over its leadership and then retreated to Party of National Unity (PNU).
Kadu Asili clinched the Kaloleni parliamentary seat in 2013 through Gunga Mwinga. Currently, they have none.
Shirikisho and Kadu Asili have joined hands with Umoja Summit and Communist Party of Kenya to battle with the Orange Democratic Movement (ODM), Jubilee and United Democratic Alliance (UDA) in their hunt for seats. At the top of their agenda is whether to zone the Coast region and allocate counties to certain coalition partners depending on their strength.
"As we discuss unity under one political ideology, we are weighing options of zoning the region or reserving it for a particular party and campaigning for one presidential candidate," said Kadu Asili chairman Joshua Kombora yesterday.
He said they were racing to capture as many elective seats as possible after a strong wave of ODM swept the region in recent years.
Kombora noted that Kadu Asili is a member of the Centre for Multiparty Democracy (CMD) and has eight MCAs across the country.
The party did not, however, win a parliamentary seat in the 2017 General Election.
Shirikisho party chairman Abdulkadir Mwinyi said parties have joined forces to make a difference in next year's polls.
"We were joined by the Communist Party of Kenya in Voi. We hope this will help us achieve our agenda," he said.
Shirikisho vice-chairman Booker Amole said parties were on a political mobilisation mission to push for change. He claimed Jubilee and ODM leaders were not addressing key reforms at the Coast.
"The land issue has not been addressed. We are also concerned about the continued marginalisation, extra-judicial killings and enforced disappearances," he said.
Political analyst Maimuna Mwidau noted that Coast-based parties have financial challenges and needed to reach out to sponsors to make them vibrant ahead of elections. "These parties lack the necessary funds to finance their activities. They must mobilise resources or remain dormant. They can invite politicians to help them revive the parties," she said.
Pwani University lecturer Hassan Mwakimako argued that Coast leaders lacked a strategy to share their agenda with the masses.
"The leaders have good intentions but fail to popularise the parties. It is not expensive to meet small groups of people or hold small rallies," he said.