Foreign Affairs PS Ms Juma dismisses claims in foreign press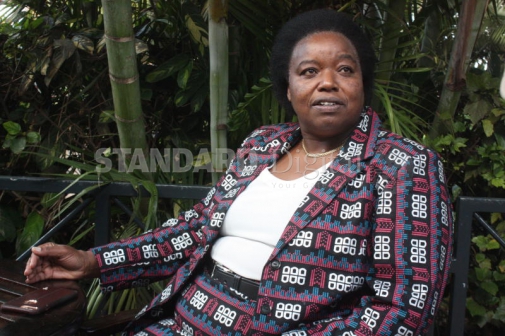 The Foreign ministry has denied that Kenya was soliciting for congratulatory messages from foreign envoys after the Supreme Court upheld President Uhuru Kenyatta's poll victory.
This comes in the wake of reports in a UK newspaper that the country's envoys had requested their hosts to write congratulatory messages to Uhuru ahead of his swearing-in on Tuesday next week.
Foreign diplomats
Wednesday, Kenya's Foreign Ministry Principal Secretary Monica Juma held a closed-door meeting with foreign diplomats based in Nairobi, further fuelling speculation as to whether the issue was part of the agenda.
The PS denied this and dismissed claims that diplomats were soliciting for congratulatory messages.
"Regularly we do briefings on the diplomatic issues that may arise. Today's was the 15th diplomatic briefing session. So it's not an unusual thing. We often meet even twice a month," she said.
She said the meeting was held to discuss the upcoming UN conference on Environment, among other upcoming events that will be held next month in Nairobi.
"The UN has an environmental summit that you know it's going to be held here in December," Ms Juma explained.
On whether the foreign envoys discussed the issue of congratulatory messages following the decision by the Supreme Court to uphold President Uhuru Kenyatta's October election, the PS said it was not part of the agenda.
"We expect many countries to congratulate the President and that is normal. But we do not go on soliciting for such messages," she said.
The Telegraph reported Wednesday that the UK government's swift apparent endorsement of President Uhuru Kenyatta's victory from Foreign Secretary Boris Johnson broke ranks with other western countries that harboured concerns about the manner in which he was elected.
Holding off
It also quoted a section of diplomats saying their governments were holding off until the inauguration next week 'because of concerns about the behaviour of Mr Kenyatta, his campaign and some government officials during the election period'.
But the PS said the foreign press has always had a keen interest in this year's elections in Kenya.
"Foreign press have had unprecedented interest in Kenya's elections and therefore the article by the Telegraph was no exception."
Wednesday, a section of Kenyans on social media took on the President's official twitter handle to disparage congratulatory messages that posted on the Presidential Strategic Communications Unit (PSCU) website.