Church that charmed presidents, Kenyatta, Kibaki and Uhuru amid fierce wrangles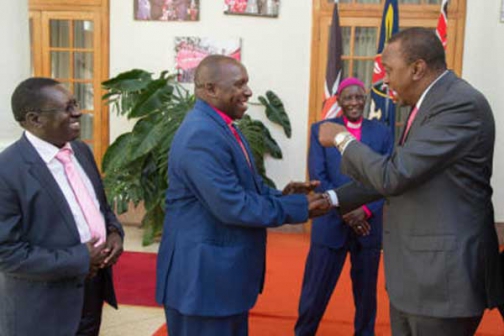 It is probably the only church in Kenya, which three of Kenya's four Presidents have kept a curious but personal contact and interest in.
Curious because founding President Mzee Jomo Kenyatta, retired President Mwai Kibaki and his successor Uhuru Kenyatta were or are not members of the African Independent Pentecostal Church of Africa (AIPCA).
Yet they have kept close tabs on the church in their highs and lows and in return, the church has consorted with their administration in its lows and highs.
A case in point is last week's rare "reconciliation" ceremony at State House under stewardship of President Uhuru Kenyatta, a devout Catholic. Since the death of its long-serving Archbishop Samson Gaitho in 2011, the church has not known peace.
Incessant wrangles
From the death of Gaitho's successor Evanson Kibe in 2013 to a rocky reign of Archbishop Amos Kabuthu, the church is overwhelmed by incessant wrangles that have attracted 26 court cases and interventions so far.
In last week's meeting, President Kenyatta is said to have watched in astonishment as two camps led by two Archbishops-elect, Julius Njoroge and Fredrick Wang'ombe, traded blame. When he could not take any more of it, the President is said to have interjected.
"Look, all of you are leaders and we are all here because we want a peaceful and cohesive solution to the leadership problem facing the church. We want you by the time you leave to shake hands so that you can go out there as one united team and continue with your good work of preaching peace and need for cohesion to the rest of the country," said the President.
After much cajoling from the President, the wrangling church leadership loosened up and a deal was sealed to stop an impending ordination of Julius Njoroge as the new archbishop to replace Kabuthu.
Under President Kenyatta's firm watch, the warring groups agreed to form a 12-member committee to address current and past differences and report back to him in two weeks. The committee, the President said, will work under personal supervision of Head of Public Service Joseph Kinyua in consultation with outgoing Archbishop Kabuthu.
The team also agreed to withdraw all the existing 26 court cases involving the church. Shortly after this meeting, Kabuthu circulated "Calvary greetings" to church members, acknowledging meeting with "government officials" and calling for truce.
"Do not give the devil a chance. I will be giving the church's official statement after meeting with the President. Until then stay blessed. God bless AIPCA Church," he said.
Members of the negotiation picked at the State House meeting include Stanley Mwangi, Eliud Juma, Paul Gichu, Samuel Kimani, David Githinji, Bernard Mwangi, Samuel Muchiri, John Maina, John Gitahi, Symon Kimaru, Julius Gitau and Fredrick Wang'ombe.
It will be remembered that former President Kibaki kept personal tabs on the church and met AIPCA leadership several times over leadership wrangles. Both Kibaki and Mzee Kenyatta never missed major church events.
Besides them, influential politicians always trooped to the church in their most critical moments. When The Standard on Sunday set about asking why the church had close ears of top politicians, we were confronted with myriad answers.
Some pointed to the church's pre and post-independence activities in Central Kenya and the role they had in emergent leadership of the times. Others talked of a sentimental attachment with Mzee Kenyatta's family. Others looked at it from a purely opportunism perspective of politicians drooling over the church's 3.5 million-member support base.
The Kenyatta connection is particularly intriguing as it is confounding. Church adherents claim Kenyatta's first visit to Europe to petition against grabbing of African land and outlawing of Kikuyu traditional practices such as female circumcision and polygamy was sponsored by among others, AIPCA and Kikuyu Central Association.
The senior Kenyatta, and later his daughter Margaret, are also said to have taught at AIPCA's teachers training college in Githunguri in those early days. Although Kenyatta espoused strong nationalistic and Kikuyu cultural values at the time, he broke their hearts when he married a European.
Later on when he was jailed after 1952 state of emergency, the church was proscribed, its independence schools closed and churches declared prohibited ground on account of breeding African revolt.
By the time the emergency was lifted and independence granted in 1963, the church had lost its schools, churches and believers. When the church bishops met Kenyatta on the eve of Jamhuri Day in 1964 pleading for help to win back adherents and recover assets, Kenyatta rebuffed them.
Church insiders say he told them he knew nothing about marketing a church and retorted something to the effect that their pleas may as well have been their funeral.
The first major split was in 1970 when a group of clergy left for the National Independent Church of Africa (NICA). There was a lull then a storm emerged in the early 1980s between Archbishop Benjamin Kahihia and John Baptista Mugecha.
In 1994, the government finally allowed the AIPCA to split again, with Mugecha, backed by some laity including politician Waira Kamau, forming the AIPCK. When Kahihia died in 1998, his successor Gaitho sought to amend the constitution and abolished the archdioceses after asking the three other archbishops to take leave.