National government holding 90 pc of money meant for counties, Governor Wycliffe Oparanya claims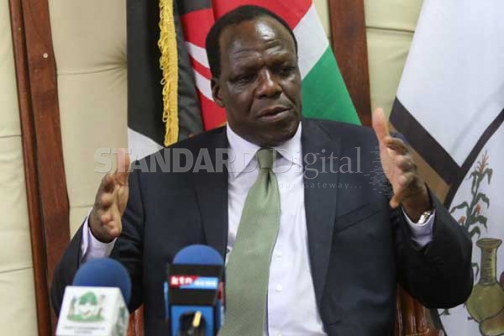 Kakamega Governor Wycliffe Oparanya has accused the national government for 'starving' county governments financially.
Oparanya who is also the Council of Governors (CoG) Finance Committee chairperson blamed the Treasury Cabinet Secretary Henry Rotich for allocating the devolved units 10 per cent of the total budget.
According to the governor, the counties have been allocated Sh291 billion out of the Sh2.63 trillion budget for the financial year 2017/2018.
"Forty-seven county governments have been given 10 per cent of the total budget. The national government has remained with 90 per cent yet they have failed to initiate development across the country," said Oparanya.
He asked the national government to increase allocations to the county governments to facilitate development at the county level.
"In South Africa devolved units get 45 per cent of the total budget while in Nigeria they receive 50 per cent. In Kenya we are denied enough money so that people feel we have failed in our development plans," he said.
Oparanya hit at the Government's Sh2.63 trillion budget saying Kenyans should be ready for tough economic times as the budget has a deficit of over Sh500 billion.
"The budget has a shortfall and we are not aware how the Government will raise the over Sh500 billion needed," he said.
"The Government will continue to borrow money and the burden remains on Kenyans. Jubilee has borrowed more than the past regimes," Oparanya said.
Meanwhile, Oparanya accused the Jubilee government for launching 'ghost' projects in the county.
He cited Lurambi-Navakholo-Musikoma and Ibokolo-Shianda-Malaha roads as some the projects President Uhuru Kenyatta launched yet they are not budgeted for.
"Since the president launched construction of the roads nothing is being done," he said.
But Navakholo MP Emmanuel Wangwe affirmed that the roads were budgeted for and the contractors have up to mid-March to start construction.
"The contractor was awarded the contract and we expect him to start construction of the road by mid-March. The roads are financially catered for," said Wangwe.