Raila's woes: Captured or lost in art of seeking consensus?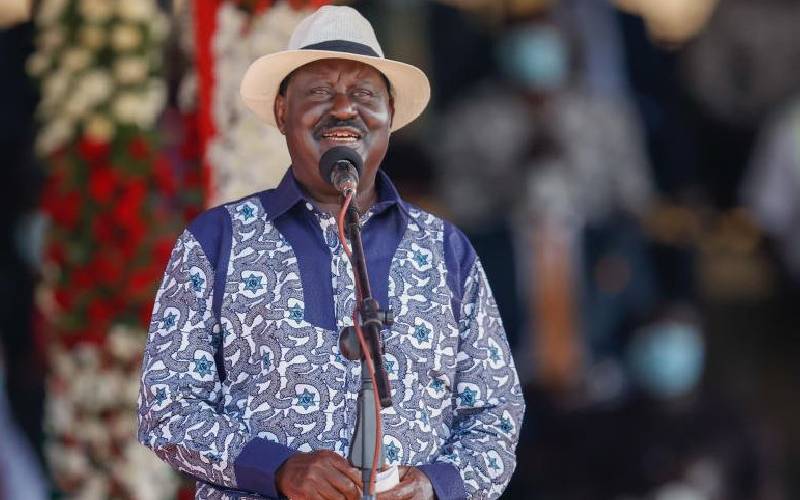 It was my professor, renowned linguist Okoth Okombo (God bless his soul) who often said "there is no no communication". Silence communicates something.
In the last three years, Kenyans have grown accustomed to what might seem like an aberration; the absence of a voice of disapproval of government and a nervy eagerness to conform and embrace alternative facts.
And so the Opposition ODM's jarring silence on the apparent threat to the Judiciary by President Uhuru Kenyatta and the subsequent appointment of some and not all of the judges approved by the Judicial Service Commission didn't seem misplaced.
But when former PM Raila Odinga reacted, it was as expected, more of a whimper, a half-hearted attempt to be heard on a black and white matter.
And by wading into the matter days later than expected of him, Raila and his party forfeited a chance to reclaim their place in our democracy as the party in Opposition. In truth, ODM's implied subservience and the glee in savouring power and privilege makes many conclude that all along it had wished that they, rather than the fractured Jubilee, were in power with the scary possibility that it would be more irresponsible and ruthless than the incumbent.
Raila's statement was awash with generalisations; a dance around the issue. It was a faint response for what really is a mighty problem... "rat's feet over broken glass" as TS Eliot wrote in Hollow Men. Having been a beneficiary of the court's ruling, many would naturally expect the former PM to reflexively stand up to the Executive not as a way of returning favour but because morally, it is the right thing and it is the law.
In the disputed presidential election of 2007- which by all means he believes was stolen from him- he chose not to go to the courts because then, according to him and his supporters, the courts were compromised. When the courts upheld his petition against Uhuru's win in 2017, the country – and his followers- heaved with great relief and pride how far we had come in less than 10 years.
Yet we cannot begrudge the former PM his wish to be statesman-like and rise above the fray in his carefully worded statement. Only that the lingering notion is that he and his party seem captured. And no, the beef of those who find incongruency in the latter-day Baba and ODM don't do it because they want him to do something but rather that they are dismayed at his numbness and the assumed lack of the benefit of hindsight. Hindsight offers us the power of lending an extra dimension to judgment and that nothing is permanent. In Parliament, for example, his party has given Jubilee the majoritarian they (ODM) so much loathed in Jubilee's first term. It was this tyranny of numbers that enabled Jubilee to nobble at institutions that underpin our democracy.
The discrimination of six of the 40 judges cleared by the JSC follows a similar pattern where numbers provided cover to carry out odious operations inimical to cherished democratic ideals. And so ODM's greatest risk is being an accomplice in the desecration of our democracy.
Yet despite that, nothing can erase the enduring memories of the fervour with which ODM objected to offensive laws among them the Security Laws (Amendment) Bill 2014 that was forced through in the midst of chaotic scenes in Parliament.
The thing is, a strong Opposition is a good ingredient for a thriving democracy. If nothing, the Opposition owes it to the country to give it real choice. Regrettably, ODM functionaries have been keen to take down anyone who reminds them of that role. This thought scorns at enlightenment because it would seem as if the party and its politicians were willing and ready for the country to pay the price of a dysfunctional democracy than for them to perform their job.
Make no mistake, I am not expressly against politicians striking compromises and building consensus that enable our democracy to function. What John Stuart Mill, 19th century English Philosopher, had in mind. That should not be mistaken with being captured.
-Mr Kipkemboi is Partnerships and Special Projects Editor, Standard Group