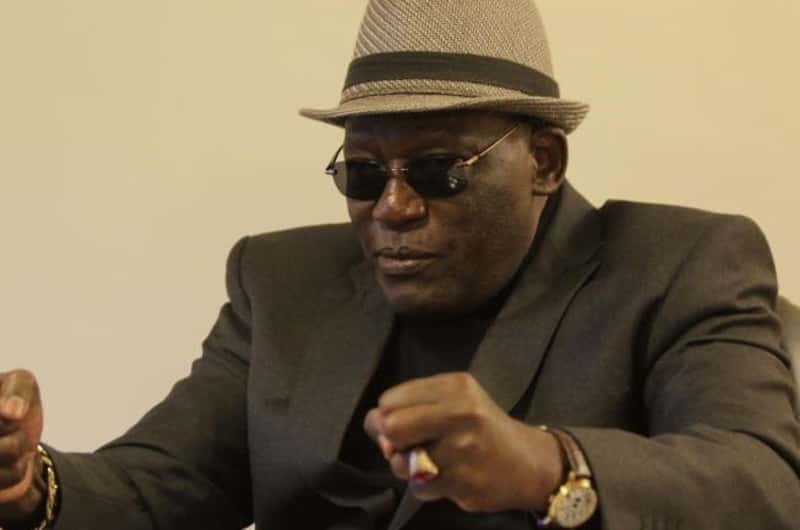 This week, the political seraph opened another seal to reveal Johnson Nduya Muthama — a self-autographing Ukambani political honcho. Muthama, like Mr Francis Atwoli in the western region, is the most visible of Ukambani political system.

When on the political wheel, he's noticeable by his fly-whisk, a seemingly royal hand-swat normalised by the likes of President Jomo Kenyatta and Oginga Odinga. But apart from being 'richer than Ruto', is Muthama Ukambani's political boiler?

In Kenyan politics, Muthama deserves a critical analysis like the Newtonian falling fruit because, like many regional oligarchs, he can birth a political hypothesis. Unlike Atwoli, who is a trade unionist and does political brokerage as his side hustle, Muthama is a businessman major and a politician minor per excellence. However, he thinks he can retire Kalonzo Musyoka and merchandise DP William Ruto's presidential bid in Ukambani.

So what's Muthama's p-value in Ukambani politics? If Ukambani politics were an engine, Muthama would be the exhaust system. If the exhaust system is broken, a car can experience deceleration and consume a lot of gas.

Muthama has been a Ukambani region political boiler who has claimed to be the greatest financier of Kalonzo's political outfits for the last two decades. Nothing can be far from the truth. The wiper party rebel was recently angered by 'demeaning' claims that Ruto bribed to support the Hustler movement.

His quick swear word to Kamba people, that methodically deconstructed Ruto's wealthy status, was that he is richer than DP Ruto; "Akamba, Ngai ula wi ituni, Ruto nde Mbesa Mbingi kunzinda" (Kamba people, I swear with high heavens, Ruto is not richer than I). He went on to explain that when he was financing Kanu in 1992 and 1997, Ruto relied on Kanu for financial support.

Muthama also envisions to control media in the region futilely. In early October, he ordered Mbaitu FM reporter Bonface Wambua to revise his reporting that citizens jeered him (Muthama) in Tala, Machakos. Muthama warned the reporter not to step in his meetings unless he changed the story to favour him.

Read More
Muthama has some unique attributes under his political resume. He is the last MP for the larger Kangundo Constituency, first Senator of Machakos County, the tenth Parliament Chief Whip and first Senate Minority Whip between 2013 and 2017. He's the first known Member of Parliament to pay his tax on his salary and was austerely opposed to MPs' exorbitant salaries and allowances.

A criminology student plans to run for Machakos gubernatorial seat, but he has an elephant in the house to fell — his current nemesis Kalonzo. An anti-BBI crusader he has, since 2007 brokered power on behalf of Kalonzo with the likes of President Mwai Kibaki and Raila Odinga. He now thinks he can broker Ukambani vote in favour of DP Ruto. This will be a tall order given that Kalonzo is still chief political priest in the region.

But I wish him well, while aware of the fact that Kalonzo is reportedly grooming Mike Sonko for 2022 Machakos gubernatorial race to prove to him that he (Kalonzo) still lions Ukambani. Although he's seemingly teaming up with governors Kivutha Kibwana and Kaluki Ngilu, his might not be a walk in the park. So, by purportedly netting Kibwana, is Muthama marshalling Ukambani 'deep state' or 'system' to thwart Kalonzo's kingpin position?

Outside politics

That could be true, but recent speculation of what the 'system' and 'deep state' means and prospects for 2022 politics, the role of the likes of Johnson Muthama, who are politicians at will, need interrogation. For instance, Muthama declined to defend his senatorial seat in Machakos, arguing that Kalonzo's Wiper Party, unprocedurally nominated Wavinya Ndeti as candidate for the gubernatorial seat in the county.

He chose to remain outside politics; a rare move among conventional politicians. Is Muthama, therefore, an invincible Ukambani 'deep state' and 'system' member?

Some political commentators dismiss the existence of such abstract institutions; even countrywide. While I can't relegate the existence of the deep state and a system — what stands is under political economy, there is always an invisible and invincible powers relation to politics.

My alternative perspective is that 'deep state', 'Hustler Nation', and 'the system' are narratives that are transforming the status quo of the political conversation in Kenya. The terms are without doubt meant to exclude and include, but every politician is working hard to gather their perceived voters under their wings as the chicken protects its hatchlings from eagles — and so is Muthama.

Dr Ndonye is a Political Economist of Media and Communication